Wisconsin voters wait for hours, others stay home amid virus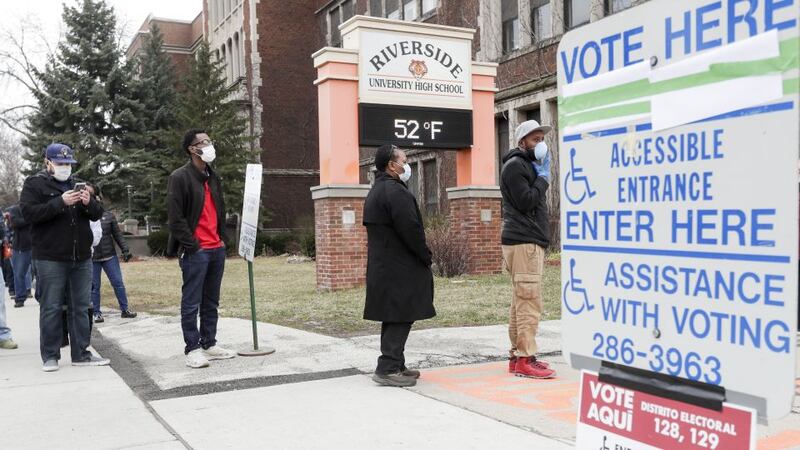 Published: Apr. 7, 2020 at 9:19 PM CDT
Despite federal health recommendations, thousands of Wisconsin voters waited hours in long lines outside overcrowded polling stations on Tuesday so they could participate in a presidential primary election that tested the limits of electoral politics in the midst of a pandemic.
Thousands more stayed home, unwilling to risk their health even as Republican officials pushed forward with the election amid a stay-at-home order. But many of the potential voters who remained in their homes complained that the absentee ballots they had requested never showed up.
Pregnant and infected with the coronavirus, 34-year-old Hannah Gleeson was still waiting Tuesday for the absentee ballot that she requested last week.
"It seems really unfair and undemocratic and unconstitutional," said Gleeson, who works at an assisted-living center in Milwaukee. "I think it's voter suppression at its finest."
Polls closed Tuesday night, but a court ruling appeared to prevent results from being made public earlier than next Monday.
Joe Biden hopes the state will help deliver a knockout blow to Bernie Sanders in the nomination fight, but the winner may be less significant than Wisconsin's decision to allow voting at all. Its ability to host an election during a growing pandemic could have significant implications for upcoming primaries and even the fall general election.
The chaos in a premiere general-election battleground underscored the lengths to which the coronavirus outbreak has upended politics as Democrats seek a nominee to take on President Donald Trump. Democrats complained that the state was risking the health of its citizens by not postponing the election. Republicans insisted that the election should go on as scheduled.
After several hours of voting, there were signs that the Wisconsin test was not going well.
Milwaukee, the state's largest city, operated just five of its 180 traditional polling places, forced to downsize after hundreds of poll workers stepped down because of health risks. The resulting logjam forced voters to wait together in lines spanning several blocks in some cases. Many did not have facial coverings.
The election complications had a racial component, as well.
Milwaukee is home to the state's largest concentration of black voters, a community that has been hit harder than others during the pandemic. Reduced minority turnout would benefit Republicans in a series of state and local elections.