'We're all in this together,' Wausau-area students show support for Parkland community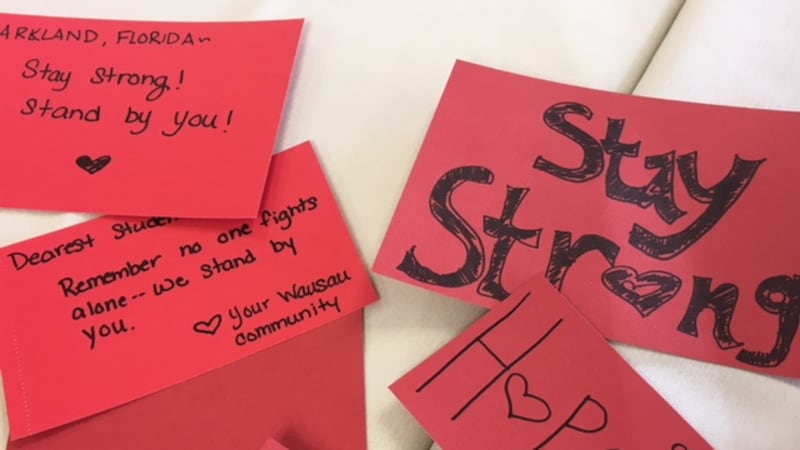 Published: Feb. 21, 2018 at 8:43 PM CST
Some area high school students came together Wednesday to show their support for the victims and survivors of last week's mass shooting. 17 people were killed when a gunman opened fire at Marjory Stoneman Douglas High School in Parkland, Florida.
Some students and staff from Wausau West, Wausau East, Newman Catholic and D.C. Everest showed support by wearing the school colors of the Parkland high school. They also spent Wednesday afternoon writing letters to share a message of love, hope and support.
"The events that unfolded in Florida hit much too close to home for all of us and especially those of us who are attending a high school in the area. I just wanted to show support to all of those in the Florida community," said Ashley Krasowski, a senior at Newman Catholic and the person who organized the effort among the schools.
"We're all in this together. We're all students and this could happen to anyone," said Isabella D'Burke, a junior at Wausau West.
Spread through social media, students were asked to wear the colors of Marjory Stoneman Douglas High School, maroon and silver.
"It really impacted all the students, and me personally, because you never know, it could happen at any school. It was just that school in particular," said D'Burke.
"I was really proud that our whole school body got together and did this without any questions. We just did it for the students, as students," said Paige Brandenburg, a junior at Wausau West.
Wearing school colors, and writing messages, all to send support to the Florida community in mourning.
"There's so many ways that we can help them, but it's hard to know what to do because we are so far away and we can't be there immediately with them," said Krasowski.
"I'm writing about mainly 'don't give up hope.' There's always good people in the world," said Sydney Calo, a senior at Newman Catholic.
In a nation that's tied together, Wausau-area students stand unified with their Florida peers.
The messages will all be tied with ribbons showing the theme of 'united together,' and they'll be mailed down to the Parkland Community this week.
Krasowski said she's been in contact with schools across Wisconsin, and even one in Texas, to spread the ideas of wearing the Florida school's colors and sending the community messages.