Gov. Walker talks workforce development at State of the State address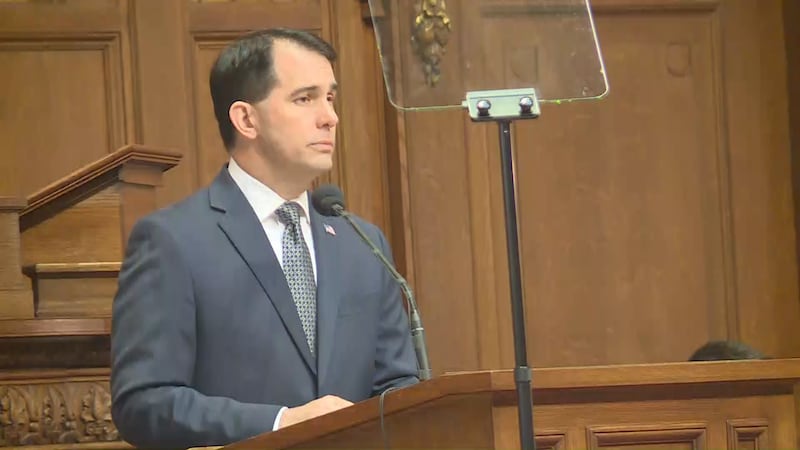 Published: Jan. 10, 2017 at 11:22 PM CST
Governor Scott Walker said his top priority moving forward will be workforce development at his seventh State of the State address in Madison Tuesday. This is a shift that comes after he failed to fulfill his signature job-creation promise.
Walker said that since the end of the recession, wages are up and more than 50,000 new businesses were created in the state, so it's not so much creating new jobs, but filling those that exist.
"We are working and winning in Wisconsin," Walker said. "The percentage of people working in Wisconsin is one of the highest in any state in the country."
One way he plans to keep Wisconsin in the win category, is by filling the jobs that are already available.
"We went from a focus on jobs, jobs, jobs, to talking about workforce, workforce, workforce. This is my top priority for 2017 and beyond," Walker said.
Local lawmakers say this is a shared goal.
"I mean, the workforce development angle, I do agree we need to focus on it. And I also strongly agree with him on making sure people with disabilities have opportunities to succeed in the workforce," said Democratic Representative Katrina Shankland.
But lawmakers on opposing sides of the aisle have different ideas on how to get that done.
"As far as the federal government comes through to be able to help folks get that first job, and if they reach a certain income level, don't' lose that public assistance totally, just have a progressive scale going down," said 85th Assembly District Republican Representative Pat Snyder.
"The best way to invest in our workforce is investing in our technical colleges, by funding our UW system, by making sure everyone can go to college by funding financial aid," said Shankland.
Other local lawmakers say it's still too early to tell the details behind what the governor said Tuesday, but are confident in the best yet to come, by working together.
Walker touted 2016's unemployment rates, the National Guard's response to flooding and job recovery as he opened his State of the State address.
He went on to boast his decision against the Affordable Care Act Medicaid expansion money.
"We actually outrank 21 states who did," said Walker.
"I think there's tremendous opportunity here to provide good quality healthcare at a more local level by the state," said Republican Senator Patrick Testin.
Testin says the state will have to wait and see what comes down federally. While Rep. Shankland called it a missed opportunity.
"I think there are a lot of people who could have benefited form that, looking at what could happen at the national level there are healthcare groups, there are doctors, speaking out saying this could actually adversely affect our patients. I'm really worried about that," said Shankland.
Shankland also fired back at walker's college tuition promises.
"We will do more than just freeze tuition. We will actually cut tuition for all Wisconsin undergraduates throughout the UW system," said Walker.
"You have to remember that any cut to tuition, without funding that cut directly to the UW, equates to a cut to the UW," said Shankland.
Walker wrapped his annual address extolling budget dedication to highway rehabilitation, employment training, and even globally recognized agriculture.
"We just won the gold medal for best cheese in the world," Walker said.