UWSP students stage sit in to protest proposed programming cuts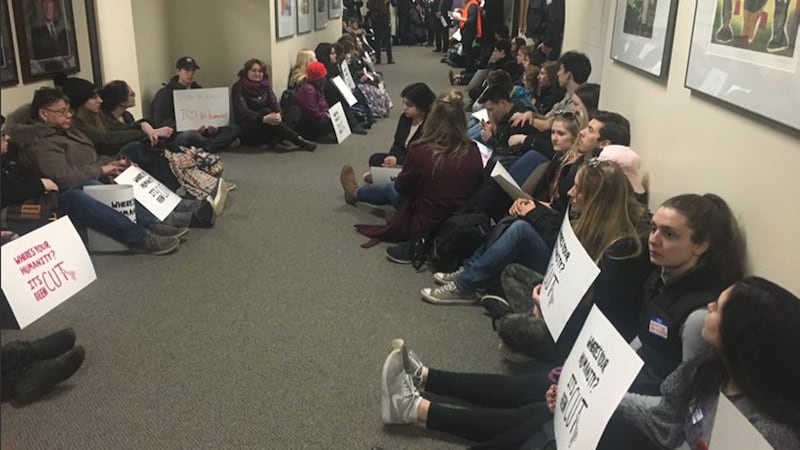 Published: Mar. 21, 2018 at 4:37 PM CDT
Several hundred students, faculty, staff and alumni at UW Stevens Point are protesting proposed cuts to 13 programs at the school.
Many of those programs are in Humanities.
Protesters met at part of the campus called the Sun Dial. After a speech by Democratic Stevens Point Rep. Katrina Shankland, students participating made their way to the Administrative Building where they held a sit in.
Many protesters held signs as they sat in silence. The sit in lasted for 13 minutes, representing the 13 programs that the university could cut. UWSP Chancellor Bernie Patterson was there to watch the demonstration, and also took time to listen to the organizers.
"I'll be in close discussions with them specifically through the Student Government Association. We have some wonderful student leaders on this campus and we have for several years now," Patterson said. "They are passionate about representing the student body but they are also quite visionary."
"I graduate in two months but I still want to invest in this place," UWSP student and sit in organizer Gigi Stahl said. "I want this to be a place I'm proud of and I want a community where other people can thrive in as well."
Stahl explained that the sit in Wednesday is about showing support for the programs students are currently in. Stahl is an English major, which is one of the programs on the chopping block. She wants the university to see how much she has learned from the program, and what future students could miss out on.