DOR secretary: Extra $753M for state budget could be less than projected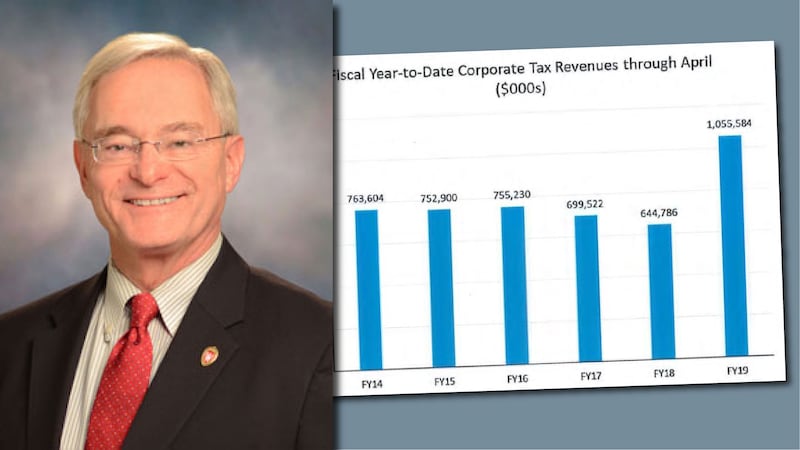 Published: May. 15, 2019 at 10:17 PM CDT
$753 million more than anticipated: that's what Wisconsin's legislative fiscal bureau
as extra funding for the next biannual budget.
But Wisconsin's Department of Revenue (DOR) Secretary Peter Barca tells NewsChannel 7 that extra money may not be quite what it seems.
On Tuesday, the Department of Revenue released a statement showing a sharp increase of revenue coming in from corporate tax collections compared to 2018, which Barca says largely contributed to that extra $753 million.
"We have this one-time boost in corporate income tax collections, and part of it has to do with corporations shifting funds from one quarter to another to take advantage of several tax law changes. So while it is certainly a spike, and there is some one-time money available, it probably is not quite as big as what it appears."
Tuesday, the DOR's general purpose revenue statement for this April showed a 90% increase from last year in corporate income, and a 63% increase for January through April.
While those numbers show an apparent spike, a letter from the DOR to Governor Tony Evers clarified the increase as a reaction of businesses to the federal tax law change that took effect in December. The DOR told NewsChannel 7 on Tuesday that while it seems like a large increase now, it could even out by the end of the fiscal year.
As Barca explained, that one-time increase has been seen all over the country.
"Economists both at the Department of Revenue, but also economists across the country in various states have all observed the exact same trend," he noted. "We don't expect this to continue, and neither did the other states around the country. We think this is sort of a one-time anomaly."
Part of the reason Barca is expressing caution is because sales tax revenue--a better predictor of economic health--is not as high as last year.
"Oftentimes [sales tax] is a prediction of where the economy might be going. So we're not certain whether or not, when we take a second look here in the coming months, whether it will actually materialize at quite that level."
How great could the decrease be, once the fiscal year wraps up in another two months? Barca says it's hard to tell, thanks to the fact corporations are making estimated payments that could result in refunds later or smaller payments in the next quarter.
"It could be 10%, it could be 20% less, could be 30% less. It's really difficult to project."
Ultimately, Barca tells us he believes the decisions that Evers and the legislative leaders are discussing for the extra money are good fiscal choices. Evers announced Wednesday he would be using an additional $56 million to pay down state debt, a decision Barca says could save taxpayers $14 million in interest.
"That's obviously the most prudent thing to be doing when you have a one-time amount of money. But then in addition to that, obviously, some statutorily has to go into the rainy day fund, which is a good thing too."
Republican senate majority leader Robin Vos stated today the extra money should go to tax cuts and debt payments, as well.