Marquette poll shows changing attitude toward marijuana legalization in Wisconsin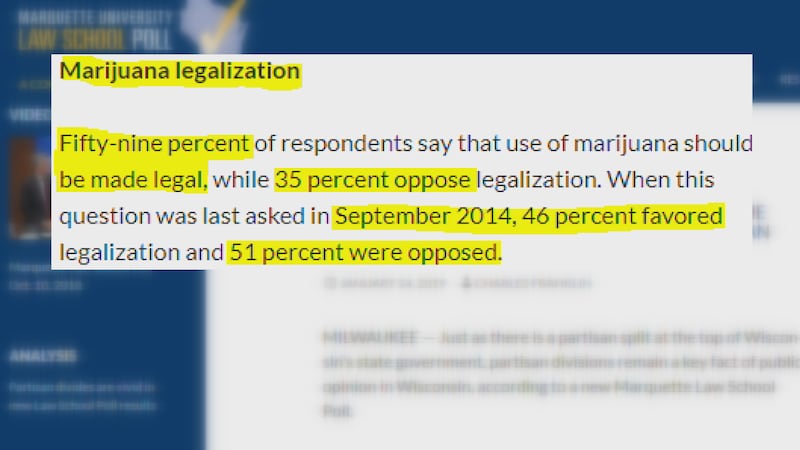 Published: Jan. 24, 2019 at 7:09 PM CST
The latest Marquette University law school poll shows during the last five years significantly more Wisconsinites have come to support legalizing marijuana.
"The support really has moved," MU Pollster Dr. Charles Franklin said.
The poll now shows 59 percent support legalization, while only 33 percent are in opposition.
"When we asked about it in 2014, for example, 51 percent opposed, and only 41 percent were in favor," Franklin said. "So that's quite a change. It also mirrors changes we see in national polling over the last few years."
Attorney General Josh Kaul echoes Gov. Tony Evers in supporting legalizing medical marijuana.
"There is a good shot the legislature will legalize medical marijuana in this coming session," Kaul said. "If a doctor could prescribe medical marijuana or an opioid, I would rather see the doctor given the crisis we have with opioids right now."
"Now we can have a big legislative, and maybe public health debate about whether that's a good idea or a bad idea," Dr. Franklin added. "But public debate has shifted on the issue. And a majority say they're ready for legislation."
The poll showed it did not matter to those supporting legalization if there were regulations for marijuana.
A spokesperson for Assembly Speaker Robin Vos, R-Rochester, said he is open to the idea of medical marijuana but opposes legalizing recreational marijuana.
A spokesperson for Senate President Scott Fitzgerald, R-Juneau, did not return request for comment.