Local Stem ROV Club shows off 'Underwater Robotics'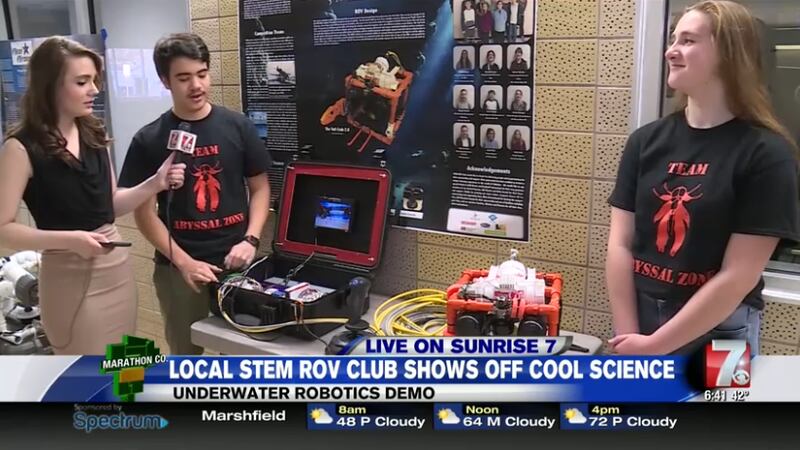 Published: Apr. 27, 2018 at 4:15 AM CDT
One area stem club is making is known just how cool science can be by participating in fun activities such as coding and underwater robotics.
"The STEM ROV Club is a coop made up of students from area schools and home schooled students, and there is one middle school team and one high school team," explained organizer Steven Schmidt. "We have mentors who help the students prepare for the WI MATE ROV Competition at UW-Milwaukee, and that competition provides a mission for the teams which gives them a goal to accomplish."
Schmidt owns an education company called 'Snapshot Science' which ran some after school programming at John Muir and Horace Mann Middle Schools a while back.
Some kids and parents that were a part of those programs fell in love with the idea, and asked Schmidt to form a UWMC Continuing Ed Program.
The program has about 18 students and around 7-8 mentors that help out. They meet weekly on Thursday evenings.
"Science and Engineering are critical for development of new technologies and a healthy economy and environment, and one of the great things about the competition is that each team forms a company or business to develop an ROV to meet the specific mission," mentioned Schmidt. "At the competition, they give a product demonstration with the robot in the pool, sales pitch to expert judges, and display a marketing poster and technical report. How they prepare and perform on these determines the outcome."
If this sounds like something your child might be interested in, this group will be holding an open house and registration event in late September, which is publicized through UWMC.
You can also contact Schmidt through the Snapshot Science website, or contact Julie Bollman at UWMC Continuing Education.