Farm to Fork: Infusing 'mocktails' with vintage vinegar & shrubs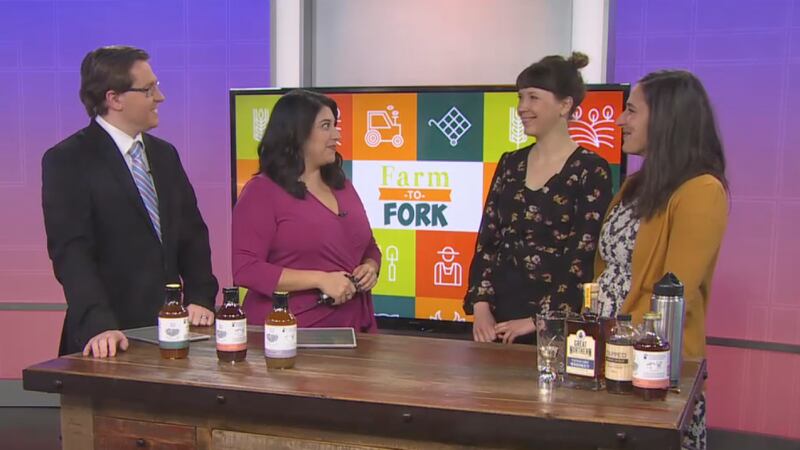 Published: Dec. 17, 2018 at 8:12 AM CST
A new company in Stevens Point is creating a fun and flavorful way to mix creative drinks with herbs and vinegars.
Farm to Fork was joined by Mindy McCord and Layne Cozzolino co-founders of Siren Shrub.
Siren Shrub uses fruit and herbs picked at the peak of season. they are then combined with organic cane sugar or maple syrup and organic apple cider vinegar to create a shrub.
The new company is pairing with local farmers to create flavors including Maple Ginger, Sweet Basil and Tart Cherry.
The shrubs now are available at stores in Stevens Point and Wausau including the Navieve Fromagerie and Downtown Grocery.
To show us how to create a warm holiday beverage, Sunrise 7 was joined by Zach Strenger with Copper & Pines in Stevens Point and Great Northern Distilling ambassador.
A Merry-Cherry:
-(optional) 1.5 oz Great Northern Distilling Vanguard Whiskey
- .75 oz Siren Shrub Co. Door County Cherry Shrub
- .5 oz Tapped Ginger Infused Maple Syrup
- top with strongly brewed Chai Tea.
Add the shrub, maple syrup, and optional whiskey to a mug. Top with hot Chai Tea and give a quick stir. Garnish with an orange peel or lemon wedge.