Family traditions continue at the Wausau Holiday Parade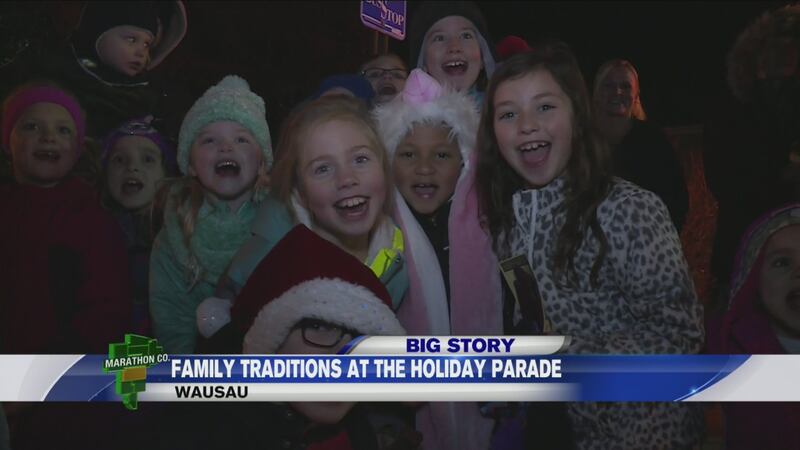 Published: Dec. 4, 2015 at 11:00 PM CST
The Wausau Holiday Parade has been going strong for more than 30 years. Families and their eager kids lined the parade route to hopefully get a glimpse of Old Saint Nick.
"It's kind of the first holiday, the real first Christmas thing that goes on in Wausau, so we're really excited to have it tonight," said Lindsey Lewitzke, the Director of Wausau Events.
Lewitzke said there's so many wonderful sights to see.
"This year we have 65 floats in the parade. We have two horse-drawn carriages this year, as well as camels and dogs, so we'll have plenty of animals for the kids to see, as well as a ton of lights. The floats are decked out with a ton of lights and everyone really gets into the holiday spirit," Lewitzke added.
For many families, it's something they come back for year after year. For Tammy Brunner, it was her first time visiting the Wausau Holiday Parade. This year, she was with the grandkids, including an 8-month-old little girl.
"Her first Christmas. They're excited. They love the lights, the noisey things not so much, but the lights and the music they're loving," Brunner, of Owen, said.
For many kids, they have their favorite part, like the music and horns, but for others, it's too difficult to pick just one thing they like.
"Oh it's wonderful tonight with the weather. It's beautiful!" said Caryn Bartelt of Wausau.
Bartelt said she has been coming to the parade since the beginning. It's a tradition she's continuing with her kids.
"Traditions are always a good thing to pass along, especially around the holidays. Anytime you can spend time with family and friends in a positive way, it's always a good thing," Bartelt said.
Part of that tradition is giving back to the community and filling a need.
"There's always a need the whole year, so especially this time of year," said Jennifer Towne of Wausau.
"Everyone likes to give during the holiday season as much as you like to receive, so for sure this kicks off the holiday season," added Lewitzke.
The Wausau Holiday Parade is the kickoff event to Share Your Holidays, NewsChannel 7's annual fundraiser and food drive for the Salvation Army and Neighbor's Place.
Along the parade route, NewsChannel 7 staff members collected items from parade go-ers.
In addition to the food donated, $588 dollars were donated, bringing our day one dollar amount to $1,488.
If you weren't able to make it to the parade Thursday, Share Your Holidays continues for two more weeks. Drop off donations are at River Valley Bank and at the NewsChannel 7 studios. Every dollar you give gets doubled with matching grants up to $30,000.