Elves stock shelves for local food pantries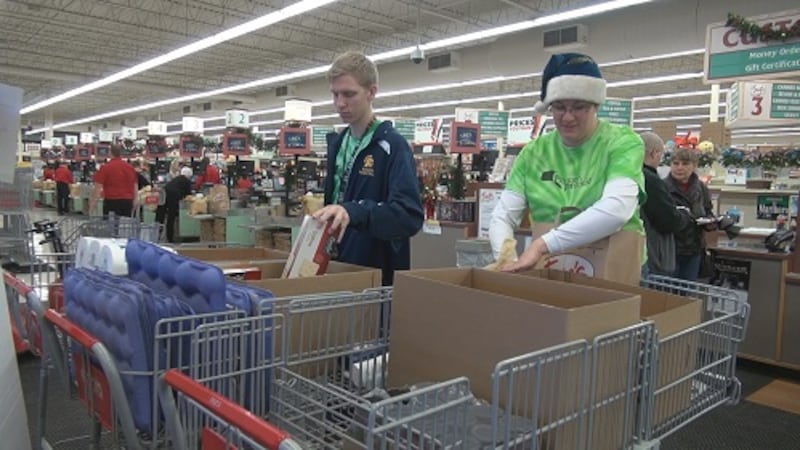 Published: Dec. 5, 2015 at 7:00 PM CST
Tis the season of giving, and that means it's time to fill food pantries so families in need can celebrate the holidays.
Abby and Kate Opatik are learning to give back to their community as they grow up, both from their parents and school.
Donating to food pantries has become a cause they enjoy supporting.
"It's hard for me to think of having a life where it's you can't get your food or you don't know if you're going to be able to have food for dinner that night and I don't want anybody to ever have to think like that," Abby said.
So that's why the sisters are donating peanut butter and oatmeal to Peyton's Promise this year.
On Saturday the organization held their annual Elves Stocking Shelves event at eight grocery stores in the Wausau area.
"We hand out lists of items that are most needed at the food pantry to the people walking in and when they're grocery shopping they can pick up a few extra items and drop them off on the way out," Founder of Peyton's Promise Peyton Medick said.
Medick said they've been holding the drive for about five years.
"It started as a way to celebrate my birthday in April and now we do it twice a year usually and see a lot of success," Medick said.
This year all of Peyton's Promise donations from Elves Stocking Shelves are going to NewsChannel 7's Share Your Holidays, the station's annual food drive and fundraiser for the pantries at the Salvation Army and The Neighbor's Place.
It's the first year they're partnering with Share Your Holidays.
"We both have the common goal of donating food to the food pantry and making sure the pantry is full, and I think by working together we will be able to increase the donations and will be able to give families in need a meal for the holiday season as well," Medick said.
And with the help of donors like the Opatik sisters, some local families will be able to do just that.
"It's all about making a difference and if we can end hunger in our community, that's amazing," Kate said.
"It makes me feel really good that I've been able to help someone and make sure that they can survive this winter and have a good holidays," Abby said.
Teaching the youth to give back, one peanut butter jar at a time.
Medick started the organization when she was eight years old, and since then they've grown into a huge organization with more than 70 advocates working across the state to eliminate hunger in their communities and schools.
On Saturday, they collected more than 1,680 items for Share Your Holidays. NewsChannel 7's food drive and fundraiser continues for two more weeks. Drop off donations at the station, and remember every dollar you give gets doubled with matching grants of up to $30,000. You also can drop donations off at River Valley Bank. It all goes to the food pantries at the Wausau Salvation Army and The Neighbor's Place.