Bank tellers being trained to spot elder financial abuse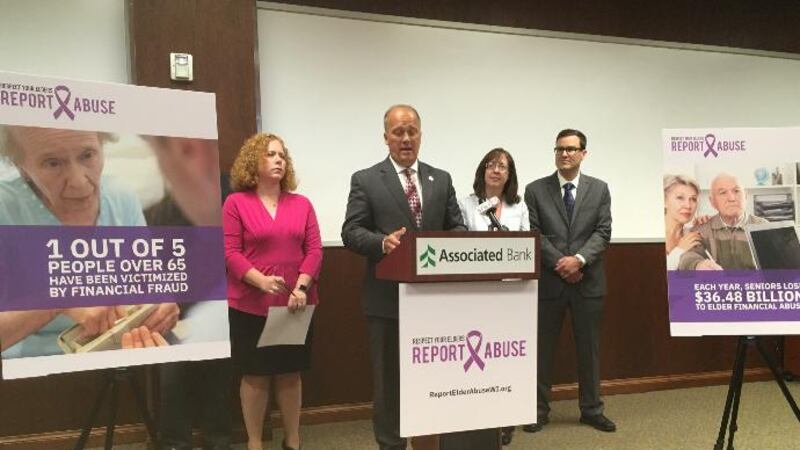 Published: Aug. 14, 2018 at 6:52 PM CDT
A new initiative launches Tuesday to train bank employees to spot people stealing from the elderly.
The attorney general's office estimates elders lose $35 billion dollars a year to financial abuse.
This new effort teaches employees on the front lines how to intervene.
We've heard the scams chalked full of convincing stories, trying to get you to fork over thousands of dollars.
"No, you did not win the Jamaican lottery," explains Wisconsin Department of Financial Institutions Secretary Jay Risch. "No, your grandchild is not in prison in Mexico."
Those scam phone calls and emails are just some of the fraud targeting the elderly, but the banking industry sees even more financial abuse happening right in front of them.
"All too often, this is family members that are the perpetrators of these crimes, so it sometimes can take an outside third party, like a front line individual at a financial institution to be able to help intervene," says Rose Oswald Poels, president and CEO of the Wisconsin Bankers Association.
The first new step in identifying that abuse and taking action is now available to the public.
The Wisconsin Department of Justice, Wisconsin Bankers Association, Wisconsin Credit Union League and members of the Attorney General's Task Force on Elder Abuse produced a 10-minute training video for bank tellers who they call the front lines in spotting fishy finances.
"It's amazing how habit-oriented people are, and tellers see that," says Sarah Gasiorowski, security officer at Associated Bank. "They get used to their customers, and they know when something isn't right."
The video identifies red flags and urges employees to alert a supervisor if they sense a problem -- the key in what bank officials label one of the most under-reported crimes.
"People who are victimized are often reluctant to talk, and with social media and the internet, you can have people that are on the other end of the world that are committing some of these crimes that are virtually impossible to catch," says Secretary Risch.
"They worked hard their whole lives to have a stable retirement, and we need to do what we can to keep them from being exploited in those later years," says Wisconsin Attorney General Brad Schimel.
The AG's Task Force on Elder Abuse is also working to create Good Samaritan laws to protect employees from being fired over reporting suspected abuse.