UPDATE: Victims in deadly Hazelhurst medical helicopter crash identified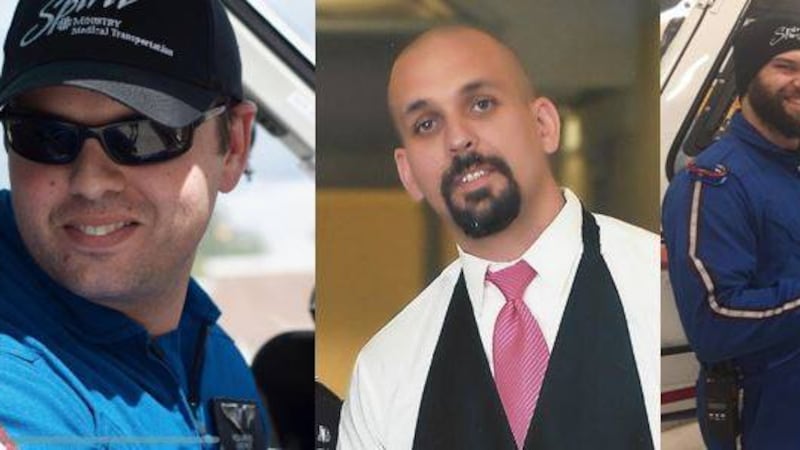 Published: Apr. 27, 2018 at 6:55 AM CDT
The three people killed in a medical helicopter crash in Hazelhurst have been identified, according to a news release from the Oneida County Sheriff's Department.
The victims, including the pilot, are identified as 43-year-old Gregory Rosenthal of Mosinee; 34-year-old Rico Caruso of Hazelhurst; and 30-year-old Klint Mitchell of Watersmeet, MI. From left to right in the picture: Rico Caruso, Air Methods Pilot, Greg Rosenthal, Flight Paramedic and Klint Mitchell, Flight Nurse.
The NTSB and FAA are investigating what caused the medical helicopter to crash. The wreckage was moved from the crash site Saturday by NTSB.
NTSB spokesman Peter Knudson said a Eurocopter AS350 B2 helicopter departed Madison after a patient transport, and was returning to its base in Woodruff and crashed about 12 miles south of its destination. The helicopter is from Ascension.
A spokesman for Ascension Wisconsin and Air Methods released an updated joint statement Saturday:
The past 24 hours have been a whirlwind of emotion and activity as our organizations continue to provide aid and assistance to those impacted by this tragedy. The outpouring of support from our Ascension and Air Methods families, first responders and the community has been significant and greatly appreciated. We have mobilized a variety of resources for our associates across the region and throughout the country to provide the level of support needed to help those involved navigate this tragedy. As the result of this support, Ascension Wisconsin Spirit Medical Transportation has been able to resume operation of its ground units for interfacility transport. The Ascension Wisconsin Spirit Air Medical services remain grounded and we continue to work with our local EMS partners and transportation colleagues within the region to ensure patient transport needs. We are working diligently on how to pay tribute to our lost colleagues. Many have asked if a fund has been created and what is being planned in remembrance. Here are some answers to those questions. The Howard Young Foundation will be using its 'Helping Hands' fund for any donations to benefit the families of the Spirit team affected by this tragedy. 100% will go to the affected families. To donate, people are asked to visit the foundation's website at www.howardyoungfoundation.org or call our office at 715-439-4005. Donations can also be mailed to Howard Young Foundation, PO Box 470, Woodruff, WI 54568. Please make checks payable to Howard Young Foundation - Spirit. A remembrance banner has been placed near the recently constructed entrance to the Howard Young Medical Center campus along Highway 51. We have established this new tribute area with the intent of providing the proper balance of tribute with the needs to safely operate our facilities. Given the regional impact of our medical transportation operations, similar areas are being planned for other facilities in the area. We would like to thank the dedicated Emergency Response professionals in our community who have been responding to this incident as well our community and friends who have reached out with their support both locally and across the country. We ask that you please keep the families of our colleagues in your thoughts and prayers. Tom Weaver Public Relations Manager
According to the Oneida County Sheriff's Office, the helicopter's last known contact was at approximately 10:55 p.m. Thursday night. The Oneida County Dispatch Center received a call that the helicopter was missing at 11:22 p.m.
Knudson said the helicopter has GPS tracking. The signal was lost from the tracking system.
Tom Johnson said he lives close to the crash site, but initially wasn't sure what he had heard.
"Well, I woke up and I heard a loud noise and it sounded like a loud muffler. And I got up and looked outside and there was no lights anywhere and it was just dead quiet so I just went back to sleep. It was a lot of ... rotors hitting trees. Now that I know it was a helicopter, that makes sense. Since that's what it sounded like-- that chopping sound. Then it was quiet," he said.
Emergency responders searched the area last known, and located the helicopter in the Town of Hazelhurst in a wooded area near S. Blue Lake Road.
Knudson estimated a preliminary report will be ready in two weeks, however, the full investigation may take 12-24 months. He said the investigator will focus on weather, the pilot's condition and the machine.
The Associated Press reports at least eight agencies were involved in the search.
Hazelhurst is about 5 miles south of Minocqua.
The NTSB will lead the investigation.
"The entire Aspirus family is heartbroken over this tragedy. Our thoughts and prayers are with the crew, their families and coworkers at Ascension. We will provide any support possible to our colleagues at Ascension and Spirit." - Andrew Krauss, Aspirus spokesman