Wisconsin rallies, tops Nebraska in overtime
The 24-17 win gives Wisconsin bowl eligibility for the 22nd straight year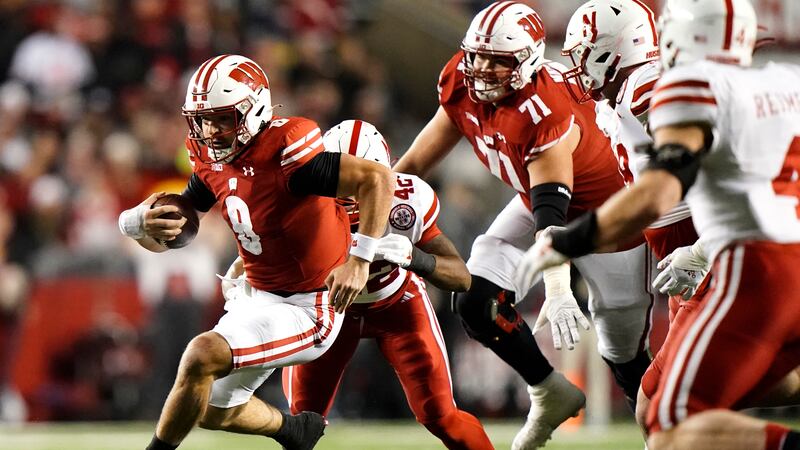 Published: Nov. 18, 2023 at 9:54 PM CST
MADISON, Wis. (WSAW) - The Wisconsin Badgers survived an overtime dual with Nebraska Saturday, winning in overtime 24-17 to earn bowl eligibility.
Nebraska started the game about as solid as they could've hoped for. The Huskers scored on the opening drive of the game in a big way. Quarterback Chubba Purdy ripped off a 55-yard touchdown run on third down to give Nebraska an emphatic start to the game.
Nebraska would follow it up with a similarly explosive score on their next drive. Purdy delivered a 58-yard dart to Jaylen Lloyd to give Nebraska a 14-0 lead early. The game looked like it could've gotten ugly, but Wisconsin's defense came up with a stop on fourth-and-one on Nebraska's next drive, stalling a Huskers' drive that had reached the Wisconsin 34.
In the second quarter, the Wisconsin offense started to come to life. Tanner Mordecai led the Badgers on an eight-play, 66-yard drive, capped off by a Jackson Acker touchdown catch from 26 yards out to get Wisconsin on the board at 14-7. The Badgers would add a 35-yard Nathanial Vakos field goal to make the score 14-10 at the half.
In the third quarter, Wisconsin would take the lead. Braelon Allen found the end zone, despite battling a nagging injury, slamming in from two yards out to take the lead at 17-14, which would carry into the fourth quarter.
Trading the ball back and forth throughout the quarter, Nebraska would get the ball back with under four minutes, driving to try and tie or take the lead. Purdy helped get Nebraska down to the Badgers' 12 with seven seconds left in the game. Freshman kicker Tristan Alvano would knock in a field goal to tie the game and force overtime.
Wisconsin would get the ball to start the overtime period. The Badgers were able to convert a fourth down to extend their time with the ball before Allen would rumble into the end zone, keeping his legs churning to move a massive pile and give Wisconsin a 24-17 lead.
Nebraska needed a touchdown to continue the game in their overtime possession. However, on fourth and 16, Purdy was intercepted to end the game at 24-17.
Mordecai finished the game 18-28 for 160 yards and a touchdown. He also ran for 51 yards. Allen ran for 62 yards and two touchdowns. Will Pauling led the Badgers in receiving, hauling in eight catches for 79 yards.
With the win, the Badgers become bowl-eligible for the 22nd straight year as they sit at 6-5 on the year. They close out the regular season next Saturday at Minnesota, a 2:30 p.m. kick.
Copyright 2023 WSAW. All rights reserved.