First Alert Weather: Basking in sunshine on Sunday, turning colder in new week
Keep the sunglasses and jacket handy heading outdoor again on Sunday. Rain/snow showers possible early next week, then getting chillier.
Published: Nov. 18, 2023 at 5:00 AM CST
|
Updated: Nov. 18, 2023 at 10:54 PM CST
WAUSAU, Wis. (WSAW) - Happy gun deer hunting opener weekend! A starlit sky and chilly Saturday night, while a good deal of sun on tap for Sunday. Clouds will roll back in on Monday. The next weather maker tracking through the Midwest is expected to stay to the south of the Badger State on Tuesday, while a cold front crossing the state might spark rain/snow showers. Chilly Wednesday, Thanksgiving, and Black Friday with temps late week struggling to make it above the freezing mark. We are monitoring the next weather maker that could cause flakes to fly going into next weekend.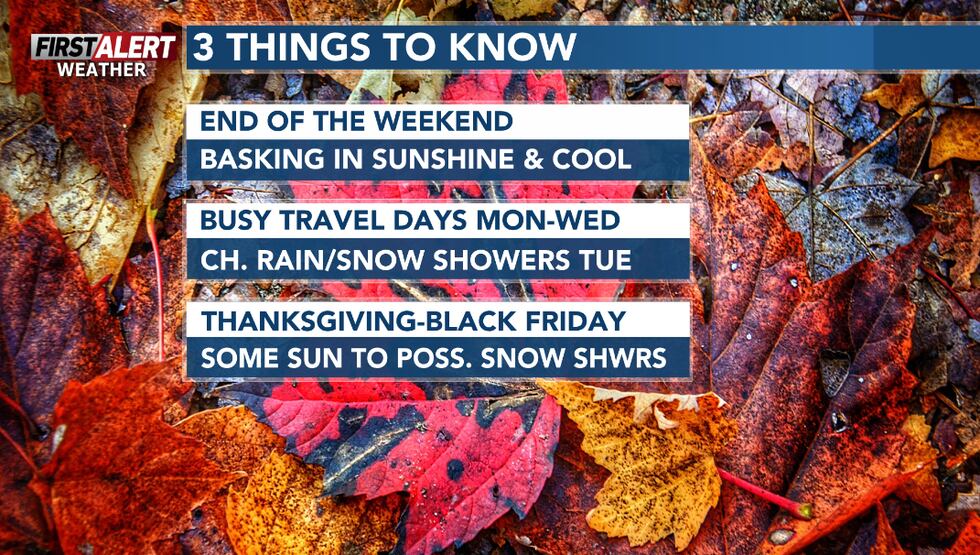 A starlit sky, and ideal conditions to check out the meteor showers Saturday night into early Sunday morning. Lows by morning in the mid to upper 20s.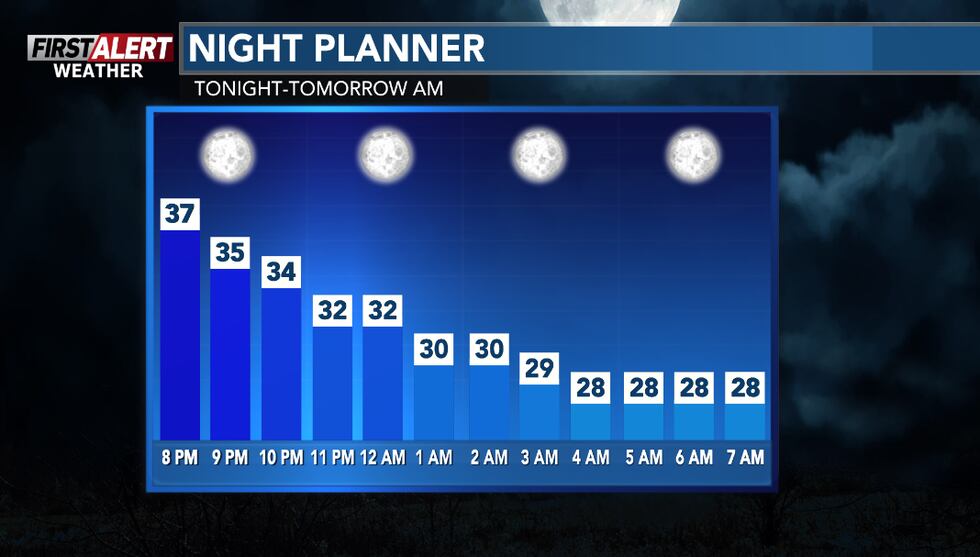 Great weather for mid-November on Sunday to get out to Lambeau Field for the Packers game. Temps will be in the 40s from kickoff through the last whistle. Mostly sunny in northern and central Wisconsin on Sunday. Highs in the mid to upper 40s.
More clouds than sun Monday with highs in the mid 40s. As alluded to, the next storm system traversing the Midwest is forecast to take a path far enough south and east to not have a direct impact on the Badger State. Things might still change, but we are going to stay on the cooler side of this late fall storm system. Instead of worrying about that wave of low pressure, there will be a cold front shifting east across the state. This will spark scattered rain/snow showers on Tuesday. Any snowfall accumulations are expected to be minimal, with perhaps lake effect snow kicking in across the far north in the snow belts on Wednesday. If that takes place, then some snowfall could accumulate. Otherwise, chilly for Tuesday, with highs in the upper 30s to low 40s. Partly cloudy on Wednesday, with highs in the upper 30s.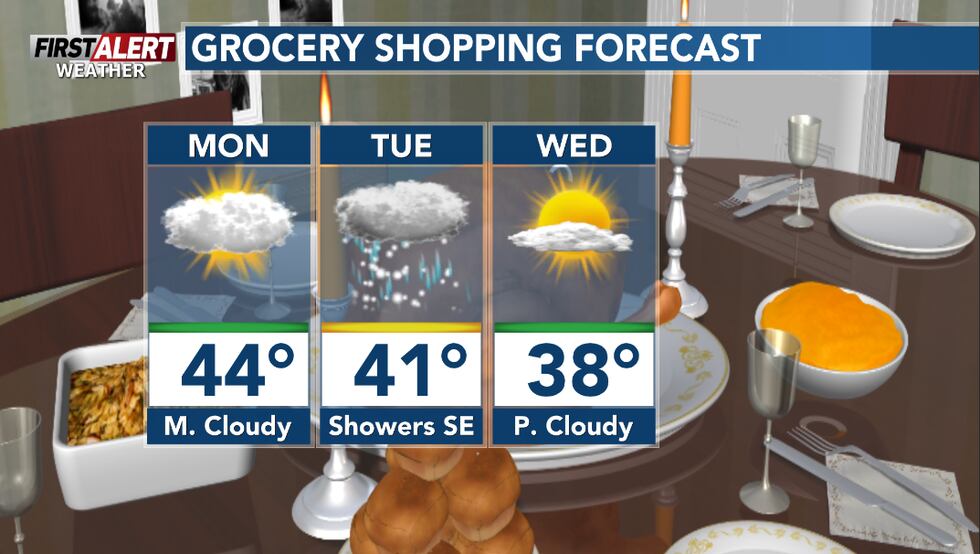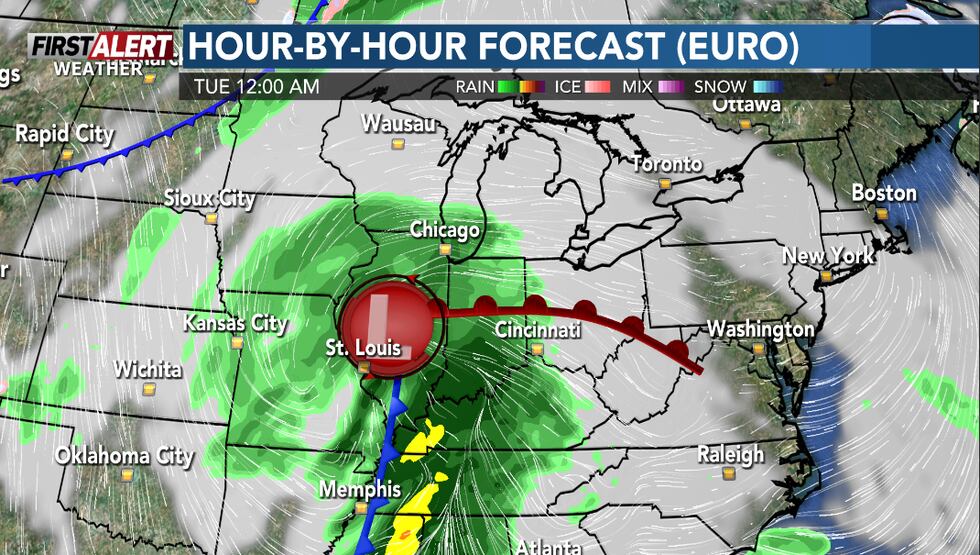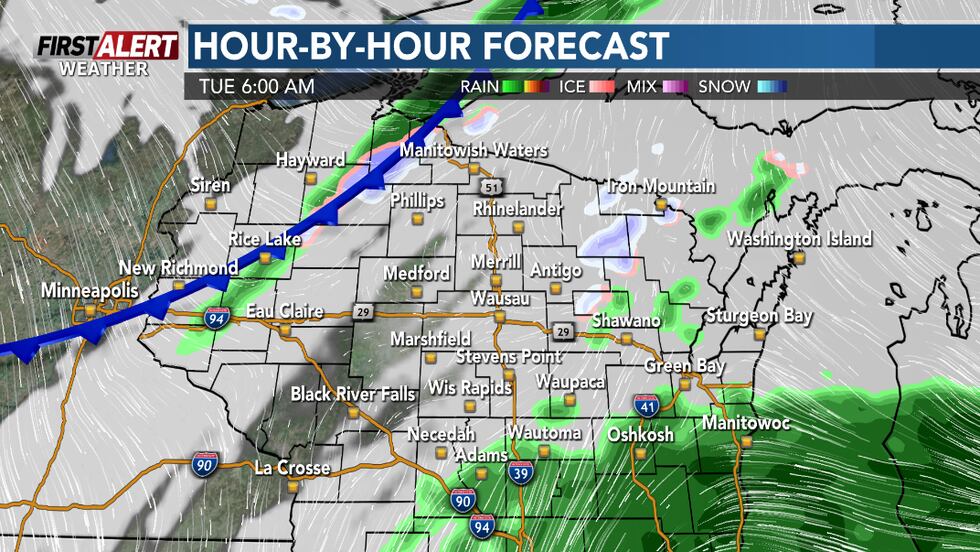 Thanksgiving on Thursday features a mix of sun and clouds. If you will be participating in a Turkey Trot event, expect it to be chilly, with temps in the 20s during the morning. Highs Thanksgiving afternoon in the mid 30s. Black Friday is chilly with considerable cloudiness. The next storm system could produce snow showers in the region Friday, light snow Friday night, and a continued risk of snow showers next Saturday. Highs in the low 30s Friday and Saturday.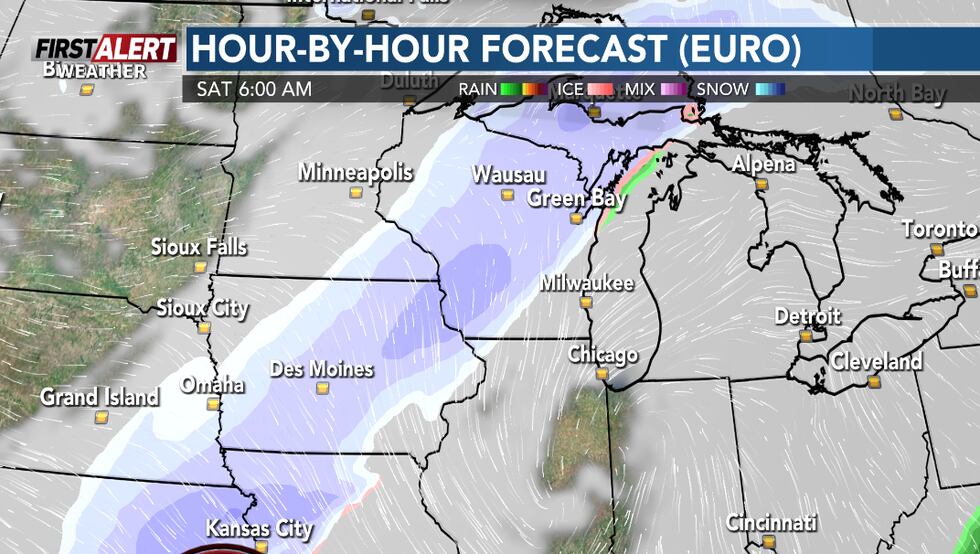 Copyright 2023 WSAW. All rights reserved.