Mid-State and Lakeland University celebrate expanded Marshfield Campus partnership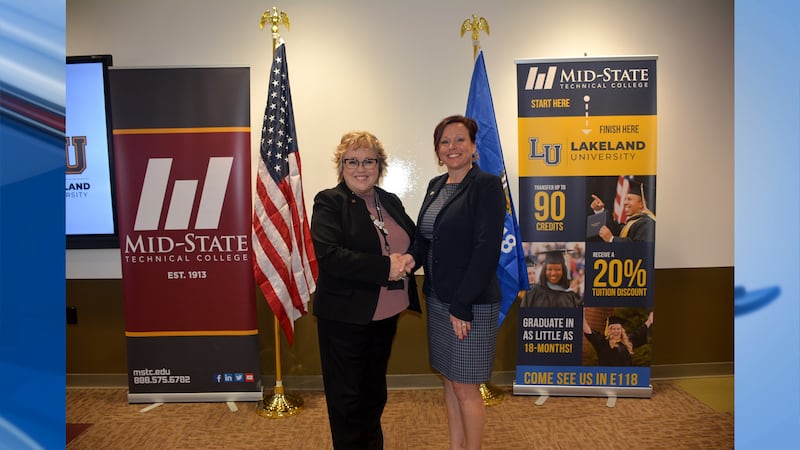 Published: Nov. 17, 2023 at 1:18 PM CST
WISCONSIN RAPIDS, Wis. (WSAW) - Mid-State Technical College and Lakeland University celebrated 31 years of continued collaboration in bringing post-secondary opportunities to central Wisconsin.
Lakeland University will now have a staffed space at Mid-State's Marshfield Campus to provide outreach and advising to students interested in pursuing a bachelor's or master's degree.
"We've been so fortunate to have Lakeland's presence on our Wisconsin Rapids Campus, and we're now equally excited to be able to have them resume their presence on our Marshfield Campus," said Dr. Shelly Mondeik, Mid-State Technical College president. "Our mission at Mid-State is to transform lives through the power of teaching and learning. I know with this partnership we are going to transform them even more."
"We are thrilled to expand our partnership in the Marshfield region," said Dr. Beth Borgen, president of Lakeland University. "Today is about creating accessible and affordable pathways for education, especially aligned with the critical talent needs of this community. This new level of access benefits students and their families, local schools, and communities in this region."
Kevin Yeske, School District of Auburndale district administrator, noted that opportunities like this haven't always existed. "Our relationship with Mid-State and our students is a perfect example of the many opportunities that exist outside of the traditional professional track that I experienced," Yeske said.
According to Yeske, Auburndale High School's 2023 graduating class of 51 students earned 270 Mid-State credits that saved them over $100,000 in college tuition. Seventeen percent of Auburndale High School's class of 2024 plan to attend Mid-State upon graduation, up from fourteen percent in 2023.
"I am a former professor, so I've had the good fortune of working with academic institutions like Mid-State and Lakeland and have seen the strengths firsthand of businesses connecting and partnering together in programs in higher education," said Mathew Bartkowiak, vice president of corporate responsibility and development at Nelson-Jameson, Inc. "Collectively, we can make a significant difference for our employees and the industries we serve and in the communities we have the privilege to call home."
Mid-State students and central Wisconsin community members interested in furthering their education at Lakeland University can learn more by contacting Trisha Steinhorst, outreach and events coordinator, at trisha.steinhorst@mstc.edu or 715-422-5484.
Copyright 2023 WSAW. All rights reserved.