Volunteers, staff work to prepare Thanksgiving meal for 350 Boys and Girls Club members and families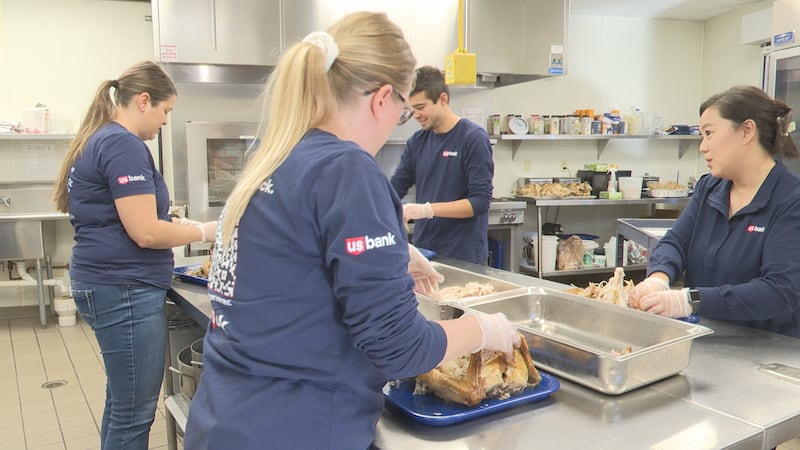 Published: Nov. 16, 2023 at 8:47 AM CST
WAUSAU, Wis. (WSAW) - Thanksgiving is only a week away, but it will come a little early Thursday night in Wausau.
For more than 20 years, the Boys & Girls Club sites have hosted the meal, but there is still an incredible amount of work that needs to happen before the food hits the table. If you've ever hosted a Thanksgiving meal, you know all the work that goes into prepping the turkey, the potatoes, and the perfect stuffing recipe. Now imagine doing that for 350 people! It is a special event that takes an extraordinary amount of volunteers.
"Probably a few weeks, getting ready and getting the word out about the Thanksgiving feast to make sure we can serve as many families as possible, ordering the food prepping the food. It's a lot going on for this big event," said Tiffany Praeger, Director of Operations for Boys & Girls Club of the Wausau Area.
If you are a member of the club, you can go for dinner tonight at any of the locations.
"We have a site in Merrill, we have DC Everest Middle School, Greenheck Fieldhouse. And then here is our Boys and Girls Club Caroline S Mark Site," said Praeger.
You do have to be a member of the club to participate, but members can bring friends and family to the feast. Kocourek has donated 20 turkeys, which is about 240 pounds of turkey to be served, and there are cookies for dessert, 400 of them. Tiffany says it's a lot of work, but they're ready.
"We've cooked all the turkeys, baked the cookies, really it is a lot of day of prep because we want it to be fresh and ready to go, we have volunteers coming in also to help us with shredding turkeys", said Praeger.
Employees from U.S Bank stopped by Wednesday night to carve the turkeys, and more volunteers will be at the sites Thursday evening to make sure it feels like an 'at home' meal. It's an event that's so important to staff and the kids that come here.
"Preparing the sites, making sure our staff is all ready, making sure the sites are decorated and ready to go", said Praeger.
Staff say the clubs are like home to some members, so having a Thanksgiving meal here with their family is priceless.
Kim Larsen, Chief Executive Office at the Boys and Girls Club said it is a special time for staff as well because they get to meet the families of the kids they serve. Again, Thursday's meal is only for members. RSVPs are suggested, but not required.
It starts at 5 p.m. at all of the locations. For a list of all the club locations and addresses, click here.
Copyright 2023 WSAW. All rights reserved.