Packers receivers relying on one another for improvement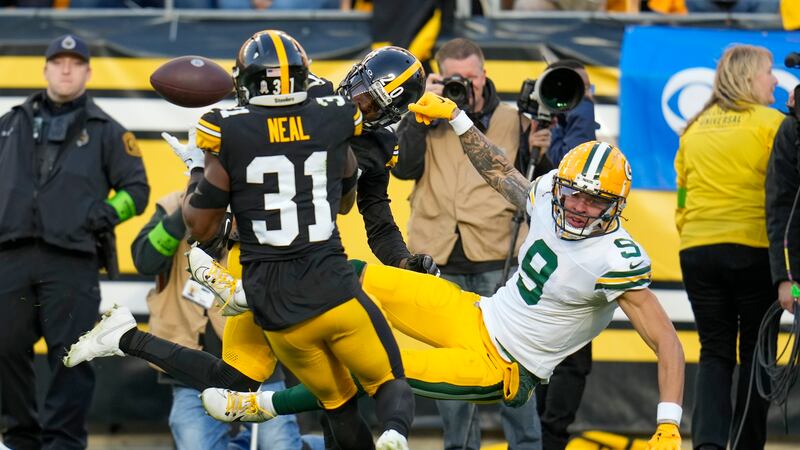 Published: Nov. 15, 2023 at 6:13 PM CST
GREEN BAY, Wis. (WSAW) - Gone are the days of Randall Cobb and Allen Lazard. Instead, it's guys with less experience leading the locker room, like Christain Watson and Romeo Doubs. However, as Watson has experienced struggles to start this season, he turns to the guys around him in the locker room for advice as well.
"We're just leaning on each other. Me, Rome, Samori, we got to learn from our older guys last year," said Watson. "We had a rough patch last year that we had to get through. So we've been through some smoke already."
The bond between the sophomore receivers and the rookies has become strong, constantly pushing each other to get better. After Sunday's loss to Pittsburgh, the group talked to one another about specifically what they can improve on.
"We just got that kind of relationship," said rookie receiver Jayden Reed. "Where we all gravitate towards each other. We are all with each other. We don't get away from each other and we try to find our solution."
Even their quarterback Jordan Love can see just how dedicated that room is to becoming a stronger collective unit.
"That's what you want to see," said Love. "You want to see guys coming in, trying to figure out, find the answers to obviously we're not winning right now."
Things are starting to work for Reed, who's topped 80 yards receiving in two of the last three games. It's also been apparent for fellow rookie Dontayvion Wicks, who's put together his best two weeks in Green Bay's last two games. Romeo Doubs says he hopes the success continues to translate throughout the position group.
"It comes down to the same answers every time," said Doubs, "making sure you hone in on your work, hone in on your hard work, what you do outside the building and what you do in your own time as well."
The Packers sit at 3-6, a record that suggests making the playoffs is currently a longshot. However, they hope the growth of this year translates to long-term success.
"We just got to continue to keep making strides and hopefully at the end of the year, we can look back and see that there were some pains along the way," said Watson. "Hopefully at the end of the year, we can know that we came out at a good spot."
The Packers return home to face the Los Angeles Chargers on Sunday, a noon kick.
Copyright 2023 WSAW. All rights reserved.