First Alert Weather: Windy & turning cooler to end the week
The mild weather will be in the rearview mirror after Thursday with cooler conditions on tap heading into the weekend.
Published: Nov. 16, 2023 at 6:53 AM CST
|
Updated: Nov. 16, 2023 at 5:43 PM CST
WAUSAU, Wis. (WSAW) - Enjoy the mild weather while it lasts. Temperatures on Thursday peaked in the 60s in much of the region, but it was also windy, with gusts of 35 to 45 mph possible into Thursday evening. A passing shower in the north Thursday evening, but most of the area stays dry. Cooler on Friday by a good 20 degrees. Dry conditions are on tap for the start of the gun deer hunting season on Saturday & Sunday. If you have travel plans ahead of the Thanksgiving holiday next week, be prepared for unsettled weather on Tuesday and much colder conditions on Wednesday and on Turkey Day.
Blustery and mild into Thursday evening, with temps still in the 50s through mid-evening. A chance of a shower in the north through about 9 PM, otherwise mostly cloudy in the region until midnight. Some clearing takes place overnight into Friday morning. Winds will turn to the northwest and still be breezy on Friday morning. Lows by daybreak on Friday in the upper 20s north to low to mid 30s in Central Wisconsin.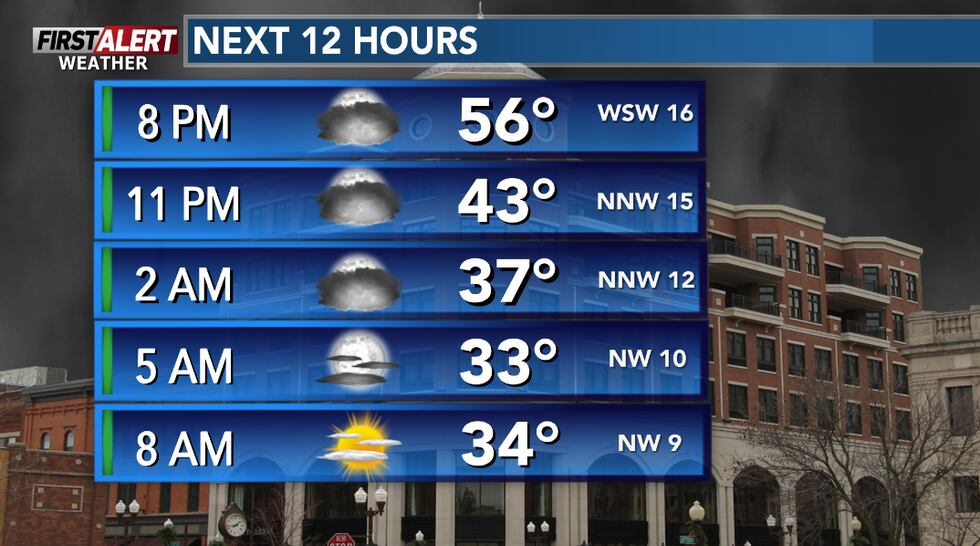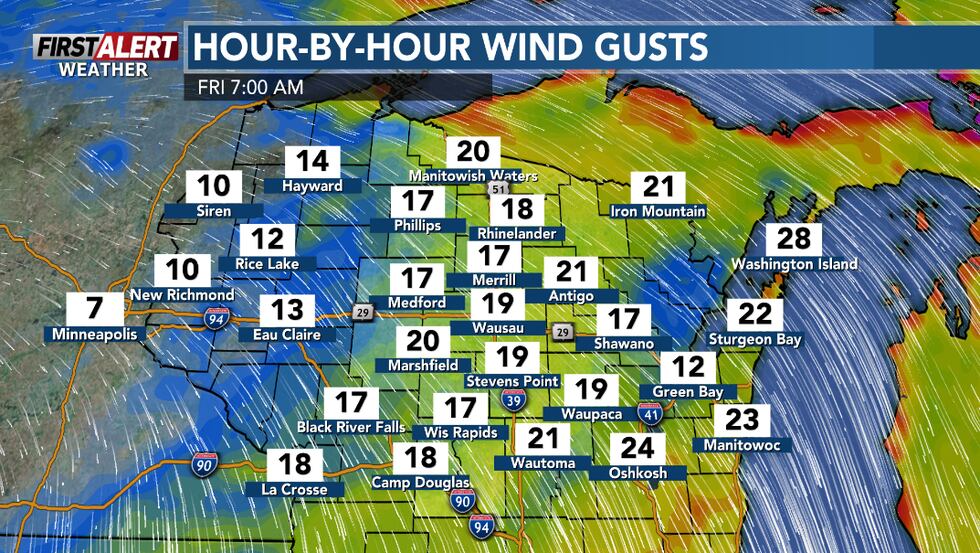 A fair amount of sunshine to wrap up the work week on Friday, with afternoon temps only making it back into the upper 30s to around 40.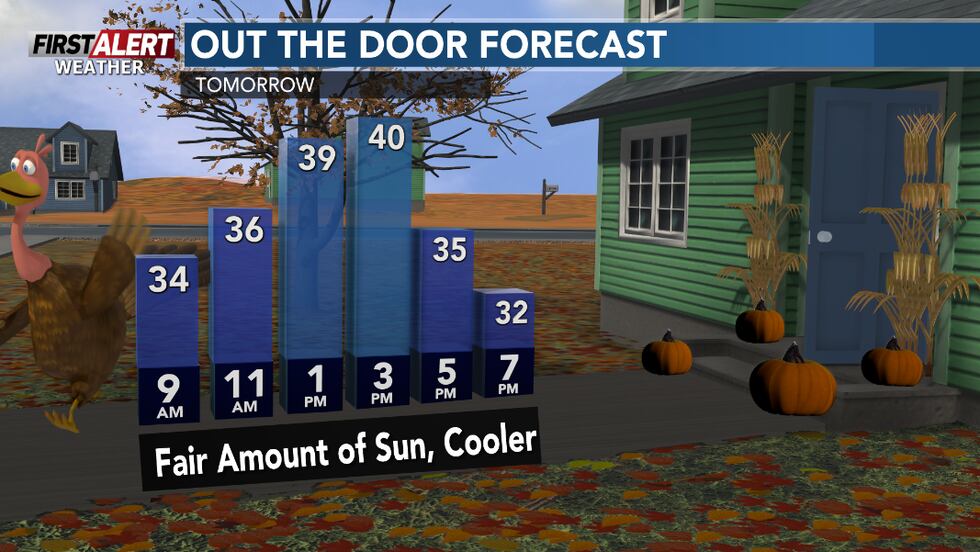 Dry weather is on tap for the start of the gun deer hunting season this weekend. A chilly start on Saturday, with temps in the upper 20s to around 30 at sunrise. A good amount of sun on Saturday, with afternoon temps topping out in the mid to upper 40s. Winds on Saturday will be from the west at 7-14 mph. Sunshine along with a few clouds on Sunday and typical temps for this time of the year. Highs in the mid to upper 40s. Winds will be relatively light out of the east at around 5 mph.
Busy travel days are on tap next week in advance of Thanksgiving, and the weather may not cooperate the entire stretch. Partly to mostly cloudy on Monday, with highs in the mid 40s.
A storm system that will be working across the Central Plains is forecast to move northeast toward the western & central Great Lakes on Tuesday. Indications are that the Badger State will be on the western, or chilly side, of the low pressure. That would not only provide a risk of snow or snow showers but also temps that may not make it out of the 30s on Tuesday. It is too early to say if there will be delays at the airports in Mosinee, Milwaukee, or back in Minneapolis, but this is your First Alert that there may be rough travel weather by air and on the roads for Tuesday into Tuesday night.
Colder and breezy on Wednesday with clouds and perhaps some sun in Central Wisconsin, while a risk of lake effect snow showers in the north. Temperatures on Wednesday may not make it much higher than the mid 20s.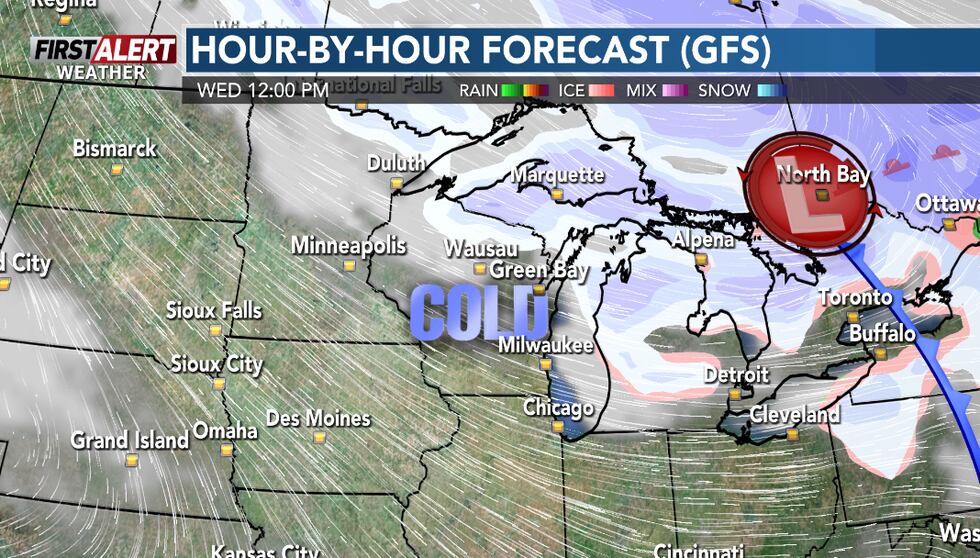 A chilly Thanksgiving next Thursday with some sun in Central Wisconsin, while still a chance of snow showers up north. Highs on Thanksgiving are in the upper 20s to low 30s.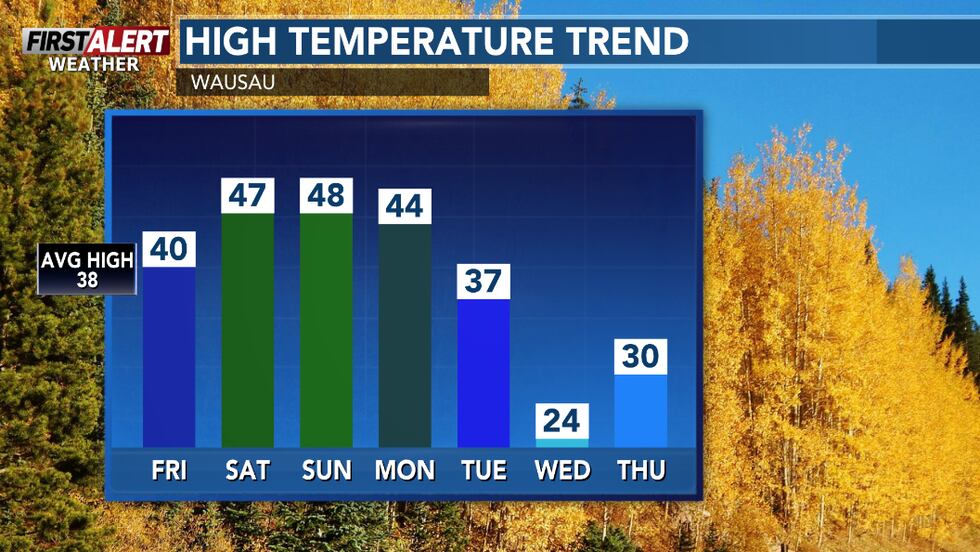 Copyright 2023 WSAW. All rights reserved.