Packers' win boosting confidence within the locker room
The 20-3 win over the Rams Sunday snapped a four-game losing streak for Green Bay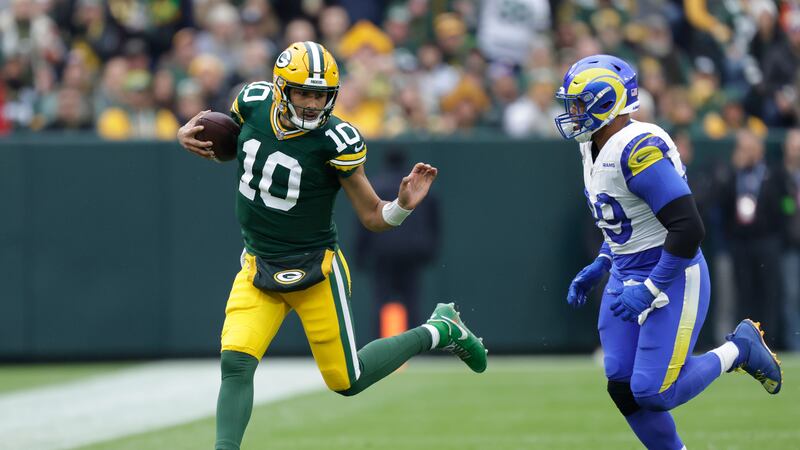 Published: Nov. 5, 2023 at 8:29 PM CST
GREEN BAY, Wis. (WSAW) - The Packers entered Sunday needing a win in the worst way. Exiting Lambeau Sunday, they'd have that win in hand. There were still plenty of mistakes with penalties and turnovers, but at the end of the day, a victory was exactly what the locker room needed.
"It feels great to get a win," said quarterback Jordan Love. "It's been a tough couple of weeks. Just to bounce back and get a win, it always feels good."
It wasn't an easy week for the team coming in. The Packers traded away locker room leader Rasul Douglas Tuesday, a tough blow for many guys on the team. On top of that, the four-game losing streak looming over their heads was ever-present. However, the team rallied on Sunday when it mattered.
"This is what we called a mirror week, a reflection week," said tight end Luke Musgrave. "I think everybody individually looked at themselves and saw what they wanted to improve. And I think they did a great job"
The defense stepped up in a big way Sunday, holding Los Angeles to just three points and forcing two turnovers, both turning into points. For the offense, it was their best showing in weeks, putting up 20 points and a game-sealing touchdown drive in the fourth quarter.
"The message was just put 'em out," said Love. "Find a way to go out there and finish the game with the ball. Put up some more points. Help the defense out."
It was a relieving feeling for a Packers team that felt they were close to winning several times this season.
"Throughout this whole season, a play away from being perfect or a play away from coming off this field, a play away from it being a touchdown," said linebacker Rashan Gary. "Today, we made the big-time plays."
It's just one in the grand scheme of things, moving the Packers to a modest 3-5 record. However, the win means a lot, even if it is over a backup quarterback-led group.
"That win does a lot for our confidence," said running back Aaron Jones. "I feel like that'll help us get rolling, give us that confidence that we need. I always said it only takes one to get us rolling. We got the one and we'll get things rolling."
The Packers hope to keep things rolling next week as they travel to Pittsburgh to face the Steelers. The game kicks at 12:00 p.m.
Copyright 2023 WSAW. All rights reserved.