Writers Guild and Hollywood studios reach tentative deal to end strike. No deal yet for actors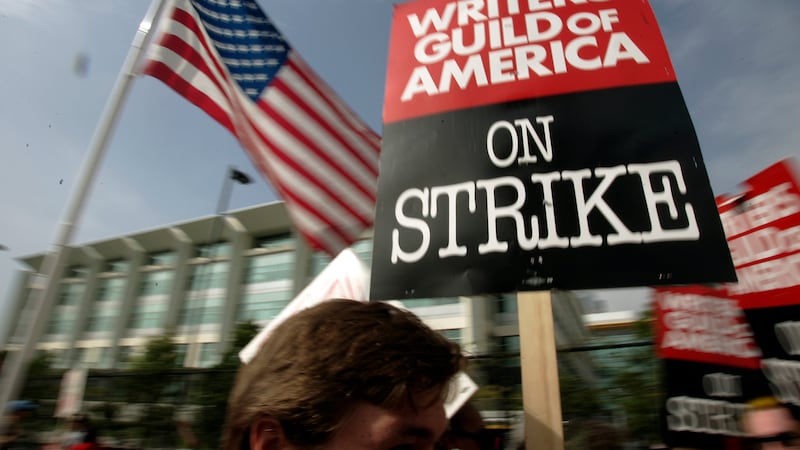 Published: Sep. 24, 2023 at 11:39 PM CDT
LOS ANGELES (AP) - Union leaders and Hollywood studios reached a tentative agreement Sunday to end a historic screenwriters strike after nearly five months, though no deal is yet in the works for striking actors.
The Writers Guild of America announced the deal in a joint statement with the Alliance of Motion Picture and Television Producers, the group that represents studios, streaming services and production companies in negotiations.
"WGA has reached a tentative agreement with the AMPTP," the guild said in an email to members. "This was made possible by the enduring solidarity of WGA members and extraordinary support of our union siblings who joined us on the picket lines for over 146 days."
The three-year contract agreement — settled on after five marathon days of renewed talks by WGA and AMPTP negotiators that was joined at times by studio executives — must be approved by the guild's board and members before the strike officially ends.
MORE ON THE HOLLYWOOD STRIKES:
Hollywood's writers strike is on the verge of ending. What happens next?
Hollywood actor and writer strikes have broad support among Americans, AP-NORC poll shows
Drew Barrymore and 'The Talk' postpone their daytime talk shows until after the Hollywood strikes
In a longer message from the guild shared by members on social media, the writers were told the strike is not over and no one was to return to work until hearing otherwise, but picketing is to be suspended immediately.
The terms of the deal were not immediately announced. The tentative deal to end the last writers strike, in 2008, was approved by more than 90% of members.
The agreement comes just five days before the strike would've become the longest in the guild's history, and the longest Hollywood strike more than 70 years.
As a result of the agreement, nightly network shows including NBC's "The Tonight Show Starring Jimmy Fallon" and ABC's "Jimmy Kimmel Live!" could return to the air within days.
But as writers prepare to potentially crack open their laptops again, it's far from back to business as usual in Hollywood, as talks have not yet resumed between studios and the Screen Actors Guild-American Federation of Television and Radio Artists. Crew members left with no work by the stoppage will remain unemployed for now.
"SAG-AFTRA congratulates the WGA on reaching a tentative agreement with the AMPTP after 146 days of incredible strength, resiliency and solidarity on the picket lines," the actors union said in a statement. "While we look forward to reviewing the WGA and AMPTP's tentative agreement, we remain committed to achieving the necessary terms for our members."
The statement said the guild continues "to urge the studio and streamer CEOs and the AMPTP to return to the table and make the fair deal that our members deserve and demand."
Copyright 2023 The Associated Press. All rights reserved.