Rashan Gary records three sacks in first Lambeau game since injury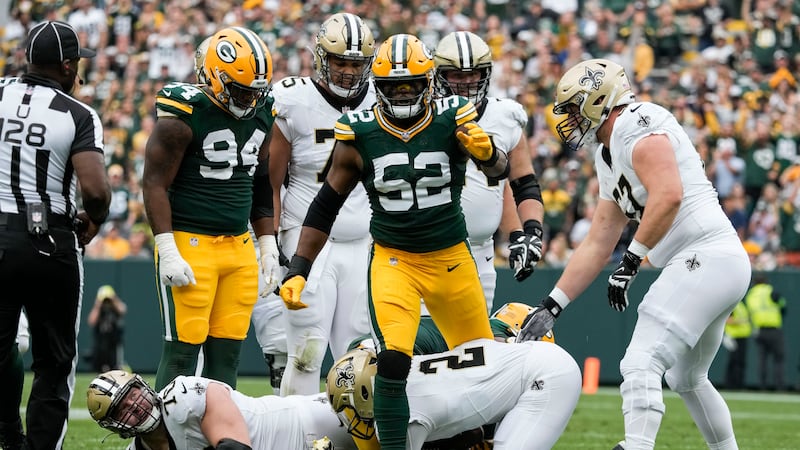 Published: Sep. 24, 2023 at 8:00 PM CDT
GREEN BAY, Wis. (WSAW) - This morning before heading to Lambeau Field, Packers outside linebacker Rashan Gary woke up and felt different. But he didn't think he'd have this type of game.
"Days like this, you kinda get in the zone," Gary said, "I like where I'm at, I like where I'm going. I just have to keep going."
Gary recorded his first career three-sack game in the Packers 17-point comeback win over the New Orleans Saints. It was his first home game since tearing his ACL nine months ago.
"Like I told the guys in the locker room, the main thing is that I'm happy to just go out there and go to war with you guys. That's something that I truly missed over the last nine and a half months or so that I was out.," Gary said. "That's something I truly missed. So, for me to be back and to be an impact, that's all I want man."
Gary's teammates feel the same way about him, getting a guy back on the field who simply loves playing football.
"R-G is a dog. He gives 100% every snap he's out there," defensive tackle Kenny Clark said. "He loves his team. He loves being here. He loves everything about football and you can see that in the way that he plays the game."
"He's one of those guys you know how people say, 'I would die for football,'" cornerback Rasul Douglas said. "I wouldn't do it, but he would. I believe he would."
In a league filled with momentum swings, a performance like that can bolster an entire side of the ball. Gary back on the field is benefitting the entire defense.
"After going to war like that for 60 minutes and coming out on top, everyone's in a good mood," Gary said. "But one thing I can say, we're already focused on next week so we're probably going to be focused on this game for an hour and already to next week."
Copyright 2023 WSAW. All rights reserved.