First Alert Weather: Kicking off autumn with risk of wet weather
A bit cooler for the upcoming weekend with a brisk breeze. The umbrella may come in handy at times.
Published: Sep. 22, 2023 at 6:59 AM CDT
|
Updated: Sep. 22, 2023 at 11:28 PM CDT
WAUSAU, Wis. (WSAW) - The drought continues in North Central Wisconsin and any rain we can get is a good thing, even if we are at the tail end of the growing season. It will be breezy for the next couple of days, with considerable cloudiness and times of rain or showers in the region. The rain gear could be needed for high school football games Friday evening. The umbrella will be good to have on hand during the first half of the weekend, while it is still likely to be more in the way of dry versus damp on Sunday. Sunshine returns next week, with comfortable daytime temperatures close to 70 degrees, while overnight lows will still stay well above the freezing mark.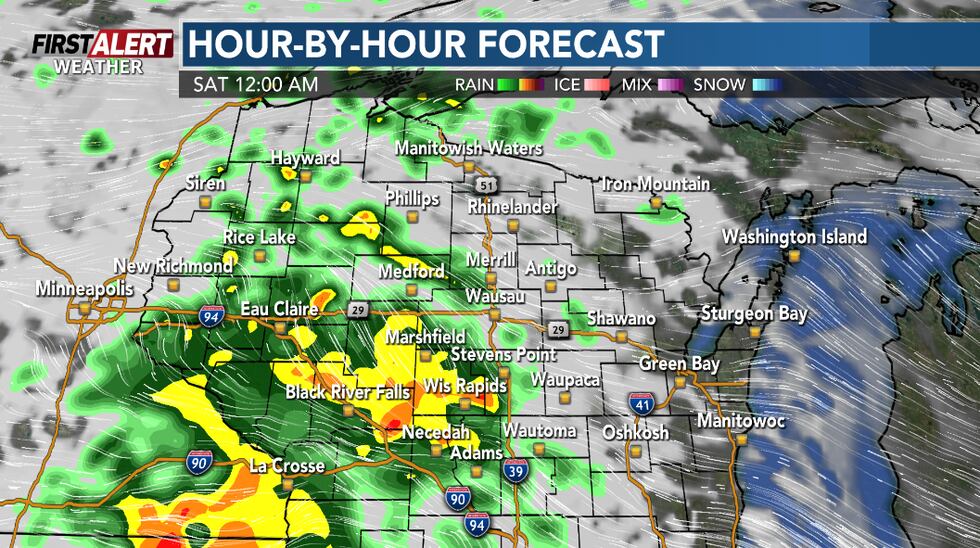 We had a good run of relatively nice weather for the Friday night football games in the region. That streak will come to an end this evening with scattered showers moving across the area. A small chance of an isolated storm, so stay up to date on lightning risks with the First Alert Weather App. Temperatures through mid-evening Friday will go from around 70 into the mid to upper 60s. Periods of rain are expected later tonight, around and after midnight into Saturday morning. A storm is possible. Lows by daybreak Saturday in the upper 50s to low 60s.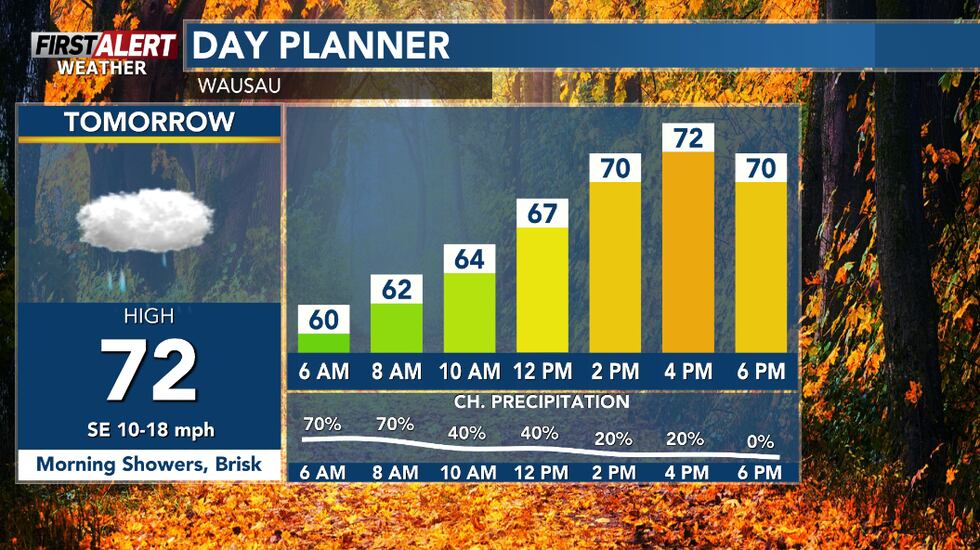 Rain will taper to showers Saturday morning. Otherwise, breezy with considerable cloudiness. A chance of showers during the afternoon. Highs in the upper 60s to low 70s. Showers are possible Saturday night into Sunday morning in the western half of the area, while a less of a risk of wet weather as you go east of Highway 51/I-39. Breezy with lots of clouds on Sunday. Highs in the upper 60s to near 70. It should be dry for the Packers game at Lambeau Field. Temps will be in the low to mid 70s.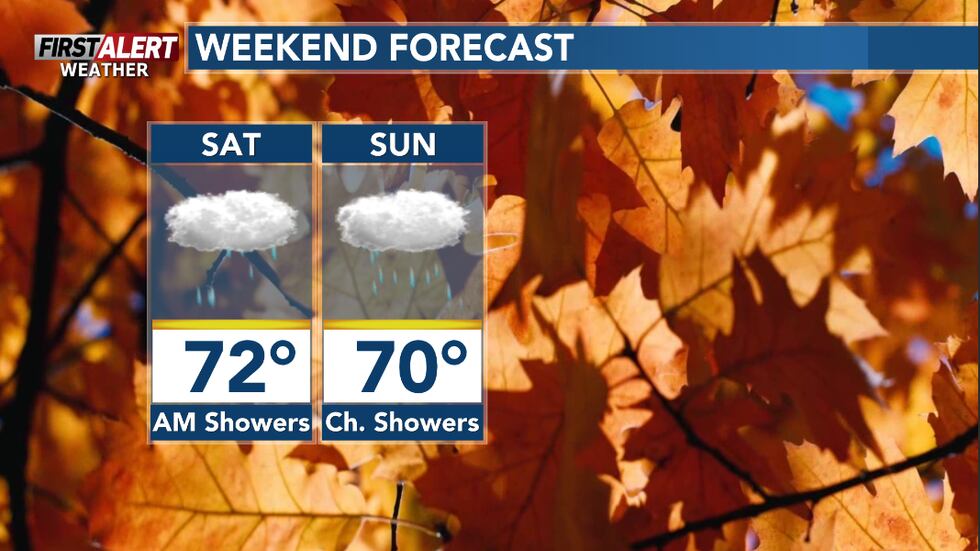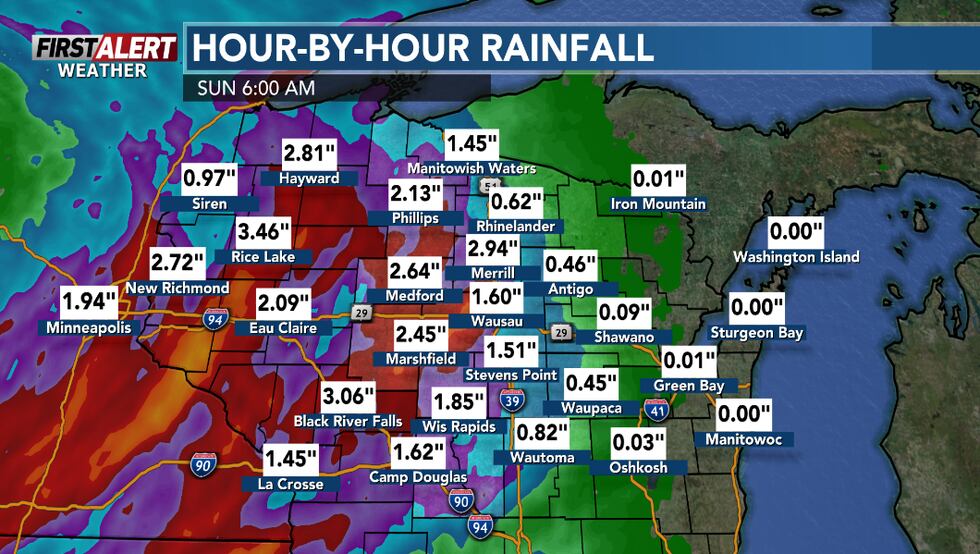 Mostly cloudy as the work week gets underway on Monday. Highs in the low 70s. A mix of sun and clouds Tuesday, with highs around 70. A fair amount of sun for the second half of next week. Afternoon readings will peak in the low 70s.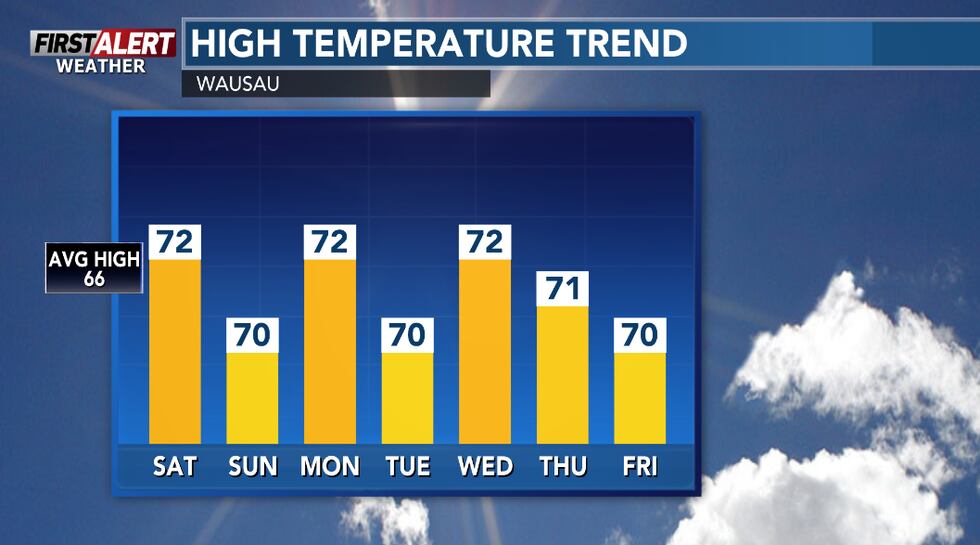 Copyright 2023 WSAW. All rights reserved.