Bakhtiari talks frustration, battle with lingering knee issue
Bakhtiari has now missed 23 of a possible 36 regular games since his initial ACL tear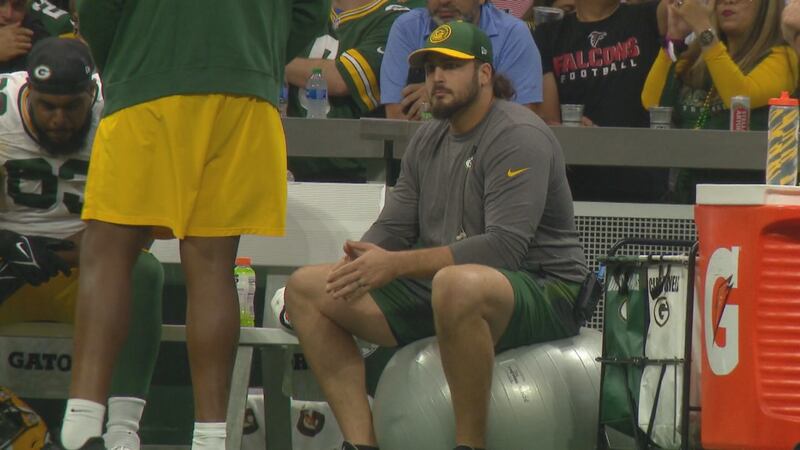 Published: Sep. 20, 2023 at 5:42 PM CDT
GREEN BAY, Wis. (WSAW) - David Bakhtiari started the season exactly where Packers fans hoped to see him; on the field, playing well against the Chicago Bears. However, in week two, he'd be on the sidelines once again for Green Bay's loss at Atlanta, again dealing with a lingering knee issue.
"I can't control it. I just have to sit here and accept what my role is and whenever I'm called upon," said Bakhtiari. "I'm ready and operating and ready to go. Until then, it's making sure everything else, whether it's from my physical or mental side is prepared to play."
Bakhtiari tore his ACL in late 2020. Since then, frustration has only continued to grow. The former all-pro tackle has missed 23 of the possible 36 regular season games since.
"I would love to put this in the review mirror but it's, maybe it's something that I have to deal with until something else, intervention comes in that can irradicate it," said Bakhtiari.
The Packers and Bakhtiari have tried a number of tactics to try and get that knee back to right, whether it be sitting out practices or trying different workouts. However, nothing's been able to prevent the tweaks that continue to set him back.
"There's a lot of things that do work," said Bakhtiari. "I think it's just tweaking and fine-tuning being on the same page as doc and the training room and the coaches."
Bakhtiari made his opinions known last week about artificial turf, following a season-ending knee injury for his former teammate and close friend Aaron Rodgers in New York. His vocality about the dangers of turf left some speculating that's why he sat out Sunday in Atlanta. Wednesday, Bakhtiari made it clear that was not the case.
"When I can play, I'm going to play so clearly when I'm not playing, there's something going on," said Bakhtiari. "It's not like it's been a secret. It's been something I've been battling with."
Unpredictable continues to describe the process for Bakhtiari, so much so, that he doesn't even know how he'll feel in the next 24 hours, let alone his status for Sunday's home opener against New Orleans.
"This could be the only day I even miss," said Bakhtiari. "I don't know, I'm just making sure that I check my boxes, I'm able and ready and when it is, great, we'll go out and play."
Through everything, Bakhtiari says it's getting to see his daughter's smile when he comes home that makes everything feel better.
Copyright 2023 WSAW. All rights reserved.