Couple welcomes quintuplets: 'It's only going to get sweeter'
Published: Aug. 24, 2023 at 2:43 AM CDT
PHOENIX (KPHO/Gray News) - A new mother and father finally get to head home after five children at a Phoenix hospital.
Quintuplets Adelyn, Eliana, Linnea, Fisher and Harper were all welcomed into the world on June 4 without any complications. Their parents, Stephanie and Graham Freels, traveled from Washington state to get specialized care at St. Joseph's Hospital and Medical Center, KPHO reports.
"I got on YouTube and looked up quintuplets. A family pops up, and that family actually delivered here as well," Graham Freels said.
This was the couple's first pregnancy after years of struggling to have children, according to a hospital press release. They found out they were having quintuplets at about 6 to 7 weeks into the pregnancy.
"Never thought it was going to be quintuplets. That never even crossed our minds," Stephanie Freels said.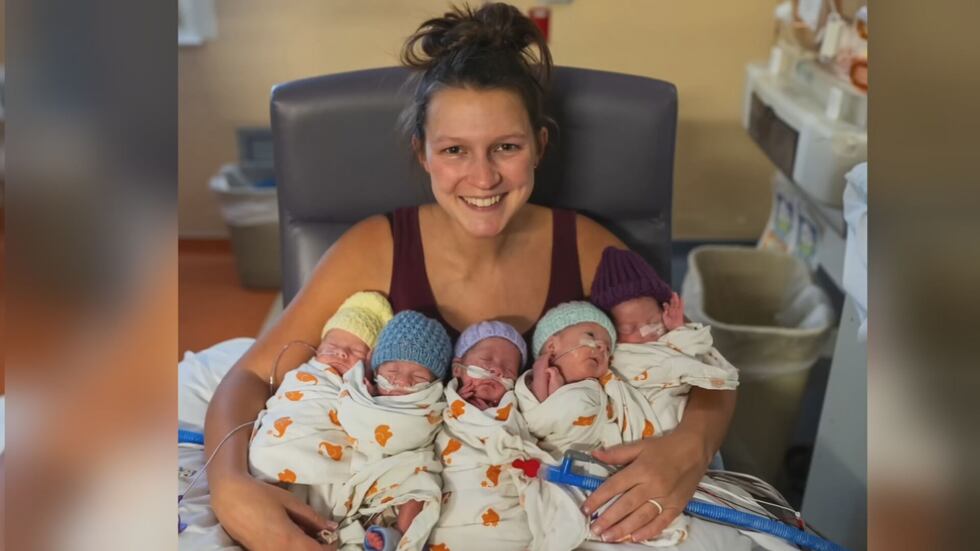 The quintuplets, four girls and one boy, were born at 27 weeks. All of them were delivered within an hour and a half.
"I didn't think I was in labor. I thought I was just so uncomfortable because of so much weight from the babies, and when she told us we were going to have the babies tonight, it was definitely shocking," Stephanie Freels said.
On only an hour's notice, about 20 people, including nurses, respiratory therapists, neonatologists and nurse practitioners, helped set up for the delivery.
"I have no words to describe how thankful we are," Graham Freels said.
Because of their early births, each quintuplet weighed just over two pounds at delivery, according to the hospital. They spent 11 weeks in the Nursery Intensive Care Unit, with the last baby being discharged after 76 days.
"One of the best moments of our NyICU (Nursery Intensive Care Unit) journey was being able to hold all five of my babies for the first time," said Stephanie Freels in the press release. "I was so emotional leading up to the moment I could finally hold all of them in my arms after carrying them in my belly. It was a moment I will forever cherish."
The family of seven is headed back home to Washington.
"This is crazy, this short season of life between the NICU and getting to go home, but I think it's only going to get sweeter," Graham Freels said.
Quintuplets are extremely rare. Of more than 3.6 million births recorded in the United States in 2021, only 15 were quintuplets or higher-order multiples, according to the Centers for Disease Control and Prevention.
Copyright 2023 KPHO via Gray Media Group, Inc. All rights reserved.