Last day to read to therapy dogs at Library for summer is Thursday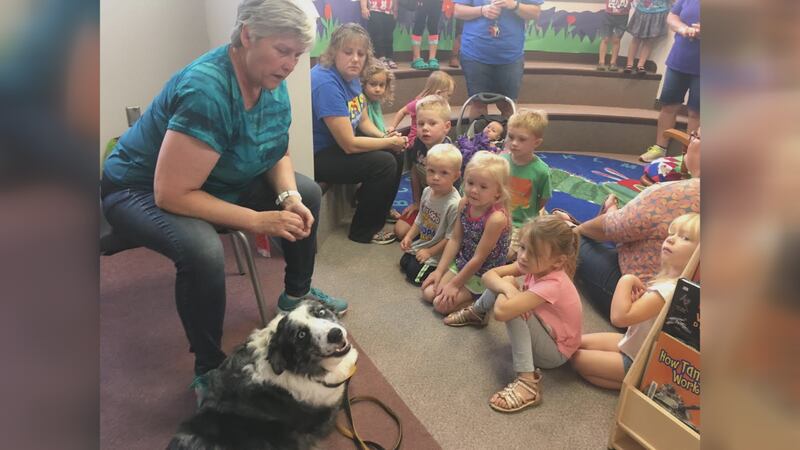 Published: Aug. 8, 2023 at 7:10 AM CDT
WAUSAU, Wis. (WSAW) - Reading is an important skill no matter the time of year, and a library program in Wausau is making sure kids don't miss a beat this summer.
Reading can be a hard task for some kids during the summer, but the Marathon County Public Library is hoping Therapy dogs can change that. The central Wisconsin Therapy Dogs' International Group has been bringing trained dogs to the children's department of the Wausau library for seven years now. The 'Read to a Therapy Dog' program allows children to read out loud to a dog, without the fear of messing up in front of others.
"Especially for the kids who might be nervous to read in front of another person, it's easier to maybe make a mistake in front of a super friendly therapy dog," said Allycia Smith, Library Marketing Specialist for Marathon County Public Library.
It also gives kids an opportunity to continue to sharpen their reading skills.
"The way the pathways develop in the brain is based on continuous practice. We know that if you stop practicing for a little bit at something, no matter what it is, those skills do tend to drop off," said Smith.
The event has seen at least 30 participants each session this summer. The library is hoping to grow that number in the future.
The last day to read to a Therapy Dog at the Wausau branch is Thursday, Aug. 10 from 1 p.m. to 3 p.m. The library hopes to bring the dogs back in the fall at the Rothschild branch.
Marathon County Public Library Wausau Branch is located at 300 1st St, Wausau, WI 54403.
Copyright 2023 WSAW. All rights reserved.