Wausau Summer Theatre Camp giving kids the opportunity to learn acting and singing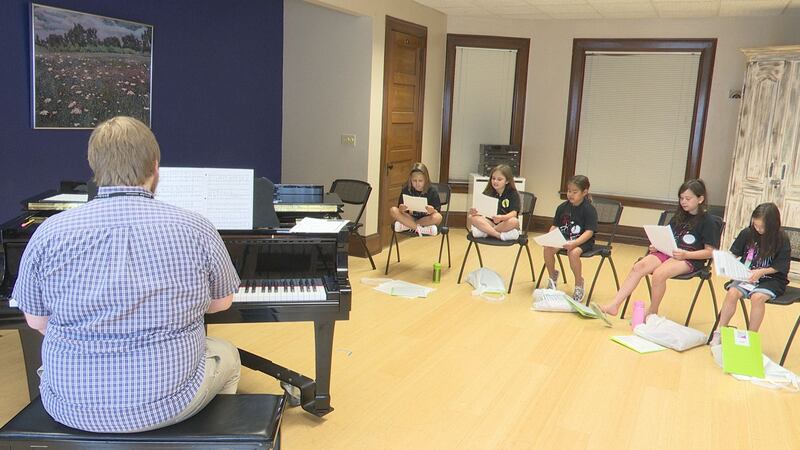 Published: Jul. 19, 2023 at 7:50 AM CDT
WAUSAU, Wis. (WSAW) - Kids in Wausau are getting a chance to strengthen their voice, dance, and use their imaginations.
From Disney classics and fairytale stories, those are just some of the things kids ages 7-9 are learning at Theatre Camp at the Wausau Conservatory of Music.
"It's a lot of fun music. A lot of Disney musical music is some of the best music for kids. I think it's interesting that it's a lot of songs that I remember singing when I was a little kid and hearing when I was a little kid," said Jacob Burgess, music teacher at Wausau Conservatory of Music.
Jacob Burgess has been a teacher at the conservatory for three years and says that theatre has always been a part of his life.
"I just like to play pretend I suppose. I liked being on stage. I like performing. I've always been involved in music since I was a little kid. So, it seemed like a natural thing to do," said Burgess.
But to him, it's more important than just singing.
"I do make sure I introduce some concepts as proper breathing technique, good intonation, good support, so that they sound good as well," said Burgess.
But it's not only music. Kids have also been practicing their acting skills and learning how to read scripts, Like Cinderella, and Goldilocks, and the Three Bears. They have also been learning how to set up a scene and how to handle props on stage. They will present all their hard work at the end of the week.
"My favorite part about camp is when we get to put everybody back together after they've worked so hard on learning the music, and I get to hear them and hear all their hard work," said Burgess.
The Conservatory will be offering two more chances for kids and teens to participate in camp this summer.
The next camp is Monday July 24 for kids grades fifth through eighth grade and Monday July 31 for teens ninth-12th grade.
for more information, Click here.
Copyright 2023 WSAW. All rights reserved.