Cycling Without Age opens for season to get more people out in the fresh air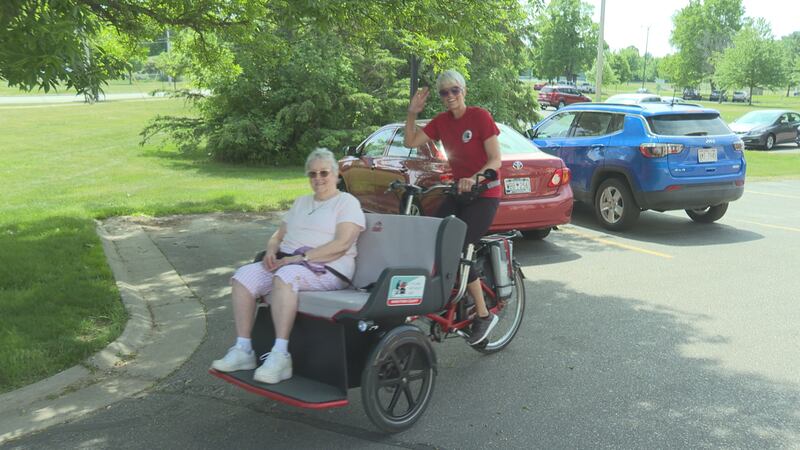 Published: May. 31, 2023 at 7:33 PM CDT
WAUSAU, Wis. (WSAW) - The fifth season of Cycling Without Age, the organization that gives seniors and people with limited mobility the chance to be out in nature, is now underway.
Tuesday was their season opener and pilots and passengers alike were excited to get outside.
Normally, Marge Hills doesn't go outside all that much.
"I'm an indoor person. I just don't get out as much and I'm not as outgoing as others are. So this has been a great help," Hills said.
These rides not only get her out into the fresh air, but also help her be social. That is of course when people are able to come.
Hills said, "I think everybody wasn't quite ready yet or had a date open to come."
So, she took to the road together with Cycling Without Age Pilot Kelly Johnson. They talked about where Marge grew up, and what kind of animals they see on their rides. One of the critters they've been keeping an eye on is an egret.
"It's been really enjoyable," said Hills
"Seriously, we talk about everything," Johnson added.
May 31 was Johnson's first pilot day of the season. Helping seniors and people with limited ability to be able to get on the bike is one reason she volunteers. Three years ago, she saw these bikes around Wausau and wanted to bring them to Island Place Apartments.
"Volunteering and helping others actually for me is selfish because it makes me feel better. So if I'm ever having a bad day and I can help people, the day is a better day," said Johnson.
The passengers aren't just her clients, they're her friends.
"I mean people help people in America," she said. "This is just one way we do it, and it does add to the community and that sense of community is what makes a place a wonderful place to live."
Last summer, they gave about 128 rides going along the river walk. Cycling Without Age has 9 different facilities in the Wausau and Weston areas.
It's important to note that while becoming a bike pilot may seem easy, a lot of training does go into it. Safety is a big priority for them so they offer helmets for everyone. The bikes are battery-operated making it easier to peddle around and can only go seven miles per hour.
"There's a lot that goes into understanding just the bike itself as well as how to interact with the people that are going to be taking the ride," said Johnson.
If you are interested in volunteering, visit the Cycling Without Age website here or email them at CWA.marathoncounty@gmail.com.
Copyright 2023 WSAW. All rights reserved.