It takes a community to support students' mental health
Published: May. 4, 2023 at 10:41 PM CDT
WESTON, Wis. (WSAW) - Addressing mental health and substance use continue to be among the top needs in the community health assessments nonprofit hospitals provide. Suicide is a particular focus that data show is creeping into the thoughts of younger and younger people, even before the age of 10.
Death by suicide has hit home in north central Wisconsin too. Last year, 22 were lost to suicide in Marathon County alone; three of them were teenagers. During 2018-2020 there were 12 suicide deaths between the ages of 10-19. They were friends, family members, students, and people with futures that were cut short.
Following the deaths of several students from the D.C. Everest Area School District and Wausau area in 2021, the school and community made a firm effort to make changes. They provided numerous educational days related to the topic of suicide and supporting mental wellness, and started new initiatives to remind students they are an important piece in the Everest community.
Those initiatives have continued. Wednesday, students at the senior high had an adjusted schedule so they could have most of the afternoon to connect with their friends, classmates, and school staff through activities like sports, art, or watching an uplifting movie.
"All of our schools, elementary through high school, have done a number of 'You Matter Moments' throughout the school year to say just that to our kids that you matter, and we're here to connect with you," Erin Jacobson, a school social worker and mental health navigator for the district said.
Throughout the halls of the senior high, there are positive, encouraging notes to remind students they can get through hard times and have the supports to do just that. A large board in the main entrance shows puzzle pieces uniquely colored in by each student surrounding the words "You Matter 2022-2023."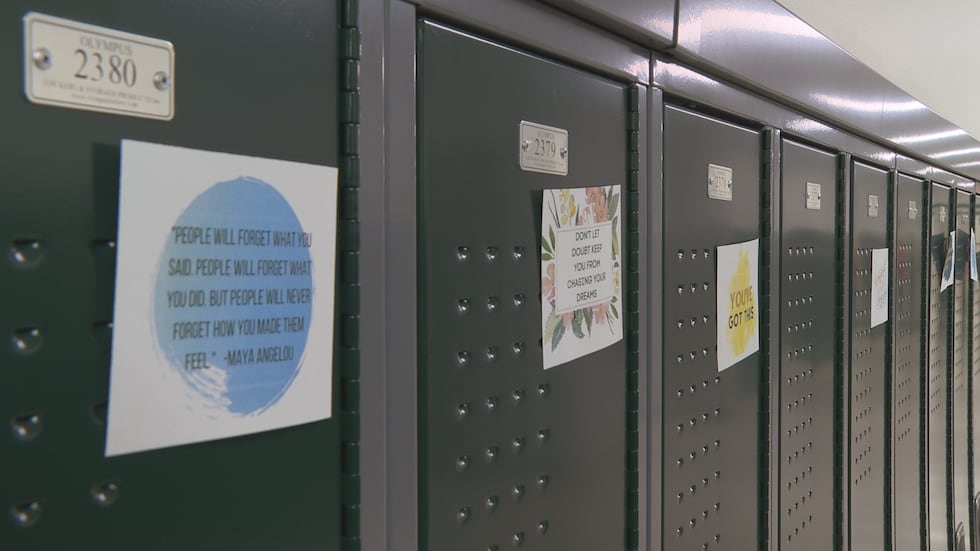 The efforts are often led by students, like senior, Jaylee Thomas.
"I got involved after I lost two friends last year. I thought it was just very important to advocate for people's mental health, especially because people think it's like, not normalized to talk about things that they go through in their mental health when it should be."
Students like Thomas who talked with 7 Investigates speak very matter-of-factly about mental health because it is matter-of-fact, especially when they have seen the darkest realities when 'not-being-OK' does not feel OK to talk about. DCE Senior High science teacher, Tony DeGrand, recalled a moment in the 2020-2021 school year he called monumental.
"I was teaching Kepler's laws," he began. "And I was doing something very easy at the board, and we're looking at squares of distances. 'What's one times one?' One, but no answer. They wouldn't say. 'What's two times two?' Blank stares with masks on their face, so I can't even tell, like, their emotions, and before I went on and kept teaching, I just, I just stopped. Because I could I could tell that there was something going on."
"And so I pulled in a desk and turn it around, sat down in front of them so that way I was at their eye level and I just asked them, 'Is everything okay? Are you guys this quiet in all of your classes?' And they just kind of nodded their heads -- but that was it, was just a nod of the head. And I said, 'Are all of your classes this quiet? Well, why do you think so? Are you afraid of giving a wrong answer?' And there were some nodding heads. 'Are you afraid of being labeled as like 'the smart kid' or 'the tryhard,' as they say?' And some of them nodded their heads. 'Are you guys, OK? Is everything going alright?' And then one of them said, 'No. We're not OK. This is really hard.' 'Good,'" DeGrand responded, "'for sharing. Thank you, and I'm sorry that this is hard. This is unlike anything any of us have ever had to go through.'"
He said he realized very quickly that students were not making connections with their teachers and students were hardly making connections with each other. That is reflected in the Youth Risk Behavior Survey data, a survey where students around the country anonymously answer questions about their behavior.
Data for Marathon County students show that only about one in five high school students get emotional support when needed. It is higher for middle school students, but not by much; just under two in five students get the emotional support needed. The numbers are more positive for those who have a supportive adult to talk to; nearly seven in 10 high school students and more than four out of five middle school students do too. However, that means three in 10 high school students, and one in five middle school students do not have that adult they feel comfortable talking to.
"About half of our high school students are experiencing serious problems with anxiety and just under a third are telling us that they feel depressed," Hannah Schommer, the public health educator for the Marathon County Health Department stated.
She continued, after further analyzing the data, they found those two admissions to be key indicators to watch for when it comes to a student's risk of suicide.
"Those students who are experiencing serious problems with anxiety, are 10 times more likely to consider suicide, and those who are feeling depressed are 15 times more likely to consider suicide."
Take a class of about 20 middle or high school students, about three of them have considered suicide; one of them attempted it. While these are Marathon County statistics, the data are about the same across north central Wisconsin.
"You can't do well in school if your mental health is not doing well," Amanda Mohr, the school social worker at Antigo School District urged.
"Mental health is not a school district issue," stated Wausau School District pupil services coordinator, Andy Grimm. "It is a community issue. We have the collective audience of the students being in school, so we have the opportunity to provide support. So, we're just one piece of the puzzle."
Schools, however, often take the brunt of the expectation to solve the myriad of problems students face in and out of school, so all students have an equal opportunity to learn.
"Mental health, behavioral health, substance use/misuse has been a top one or two priority for every county, across our service area for many, many years," Marshfield Clinic Health System's vice president of community health said. "The challenge is, how do you deal with that? And how do you address some of those issues around behavioral health? Because it is so broad and complicated, and there's many, many aspects associated with it."
"We are working in our own pockets," Merrill High School counselor, Allie Libby noted. "You know, the school is working, like, here's what we have to do, and then they don't know that there's (an) outside organization, and then maybe a kid has gone to their primary care physician. And maybe the county has some interaction, or the police department, we're all kind of working to all serve the same needs, right of like supporting people to be successful in life."
"Issues of youth mental health cannot be resolved or solved by one entity, one person, one organization," Eric Giordano, the executive director of the Wisconsin Institute for Public Policy and Service stated. "It really will take a strong community effort."
In January 2022, school districts, community organizations and businesses -- all largely from Marathon County -- came to that same conclusion together.
"It's really our role to play a part in finding a solution as a community," Tara Draeger, Aspirus' Community Health Systems director explained. "With some of the recent tragic events that happened in the community, along with the data that we've been able to, to look at, I think, you know, we all just felt a need to come around the table and to start developing solutions."
The joint effort is called 'Caring for Kids.' Out of that first community meeting with around 100 participants, four working groups were developed: the Student Voice, Parent Engagement, Systems and Policy, and Community Learning and Professional Development. WIPPS has been coordinating the effort.
"These kinds of, what we call wicked problems, these complex problems that have multiple causes multiple solutions, a lot of different viewpoints, and really a need for many different stakeholders to come together," Giordano explained, adding there is no blue print to follow.
"If we had that, then I think our country wouldn't be in the mental health crisis that we're in. So a lot of what we have to do is bring smart people together and people who care and really talk through what are our shared values. What are our shared interests? And what do we think we can actually accomplish that has some kind of impact, and it's feasible?"
Those involved have hope the effort will make a difference; it has to.
"No matter where a child or who a child reaches out to, they have the resources to help support that student or know where to go to get the support the student or anybody in our community needs." That is the goal, Gina Lehman, the student services director at D.C. Everest Area School District concluded.
Below is the latest update from the working groups. There will be another community meeting on June 22. For those interested in joining a working group, fill out this form.
The Student Voice team has been focused on strategies to elevate students' ability to lead change and connect with others on topics related to adolescent mental health. Two main areas of focus are emerging. The first is using the expansion of Raise Your Voice groups across our region as a vehicle to expand how we share resources and de-stigmatize conversations about mental health in our communities. To do this, student leaders participating in Raise Your Voice are planning to be present at a wide variety of community events throughout the upcoming summer and beyond. The second aim of this group is to create a 'student symposium' style event that would be offered in May of 2024. This gathering of young people would also share resources, while also including opportunities for student leaders to connect, collaborate and plan across multiple area school districts on how to better meet the mental health needs of our youth.
The Systems/Policy group recently discussed the potential impact and feasibility of internal vs external policy and advocacy work on youth suicide and mental health. The Policy Focus subgroup is working to understand what could be done within the 90-day timeframe that could have the most impact. Further discussion is required and another meeting is set for late April.
Our Parent Engagement sub-group has met twice as a small work group with one additional meeting scheduled for May 18th. This group has had rich conversation that has included topics, including: increasing engagement among families, what to say in times of need, simple signs and symptoms to look for when students are in need, and expanding engagement with our local businesses to share a common message to families. We are working on a culturally responsive document to be shared among the community, which will be available in draft form at our next large group meeting.
The Community Learning and Professional Development team has been focused on gathering feedback on what topics and process is best to deliver professional development and learning to our community partners. Collaboration is taking place with the Student Voice team to hear from our area youth on what they would like to see adults in our community become more knowledgeable about when working with youth to better serve them. The overall aim of this group is to create a professional development day for our community learners, in partnership with school personnel, that would be offered in October of 2023.
correction: Previous versions of this story incorrectly spelled Amanda Mohr's name; it has since been corrected.
Copyright 2023 WSAW. All rights reserved.