Body of missing 1-year-old found in dresser; mother's boyfriend charged with murder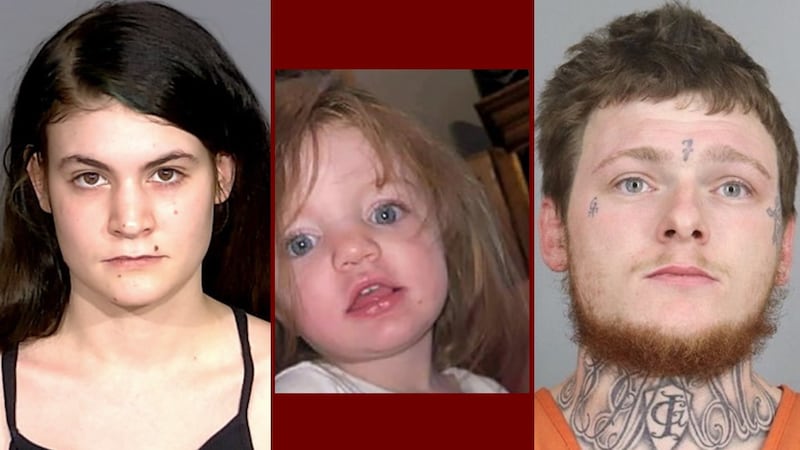 Published: Apr. 26, 2023 at 4:15 PM CDT
MARION COUNTY, Ind. (WPTA/Gray News) - Investigators in Indiana say they have recovered the body of a 1-year-old girl who had been missing for months.
WPTA reports that authorities identified the body as 1-year-old Oaklee Snow. She was first reported missing from Oklahoma in January.
Marion County Prosecutor Ryan Mears said 25-year-old Roan Waters, the boyfriend of Oaklee's mother, is facing murder and neglect charges in connection with the girl's death.
Oaklee's mother, 22-year-old Madison Marshall, has also been charged with neglect of a dependent resulting in death, and assisting a criminal.
According to officials, Oaklee's biological father was the person who reported her as a missing person in January. He said Marshall and Waters took Oaklee and were heading to Indianapolis.
In March, Waters was arrested by the Greenwood Village Police Department in Colorado on an outstanding warrant. Investigators said they believed Marshall had been staying with Waters, but they were not found together at that time.
Police were then able to track Marshall to North Carolina, where she was eventually arrested and extradited to Marion County.
During interviews with investigators, Marshall claimed Waters killed Oaklee and that they moved her body to Morgan County in February.
Authorities said they were able to find Oaklee's body in a dresser drawer of an abandoned building.
"As parents, we have a duty to protect our children. Not only did these two individuals fail to live up to that responsibility, but the allegations indicate that Oaklee suffered a horrific death and an abandonment that diminished the dignity that any child deserves," Mears said.
According to court documents, Oaklee was last seen alive in February. Witnesses said she was being carried out of a "drug house" in Indianapolis while wrapped in a blanket.
Authorities said Waters was previously charged with child abuse, domestic assault and battery in the presence of a minor for allegedly hitting Oaklee in the face last November. Court records show an arrest warrant has now been issued for the murder charge.
Oaklee's mother appeared in court on Monday for the neglect charges. She has a pretrial hearing scheduled for June 28.
Copyright 2023 WPTA via Gray Media Group, Inc. All rights reserved.