Rock County teen gets creative with farm field prom proposal
Ryan Hazeltine wrote "PROM?" in his farm field to ask his girlfriend to the big dance
Published: Apr. 19, 2023 at 10:07 AM CDT
|
Updated: Apr. 19, 2023 at 8:17 PM CDT
JANESVILLE, Wis. (WMTV) - A teenager in Rock County came up with a creative and fun way to ask his girlfriend to prom. Ryan Hazeltine is a junior at Parkview High School in Orfordville. He lives on a farm in southwest Janesville.
Hazeltine decided to ask his girlfriend Abby Anderson, a sophomore, to prom by literally spelling it out in giant letters in a farm field.
"We got the good idea to take the tractor and the disc out and write 'PROM?' in the middle of the field," Hazeltine said.
His father, Robert, said his son came to him first to get his approval.
"Every year, these proposals get a little more carried away and I think he was looking for something a little different," said Robert Hazeltine. "No one has ever done this, so it was kind of a neat idea."
With dad on board, Ryan got to work. He just went out into the field with a tractor and just eyeballed the whole thing. There was no measuring or math involved.
"We had a blank canvas he could work with, and we went out and did the first try at it and it worked out really well," said Robert. "It was the first try and we thought if it didn't work, we could just try again on another field."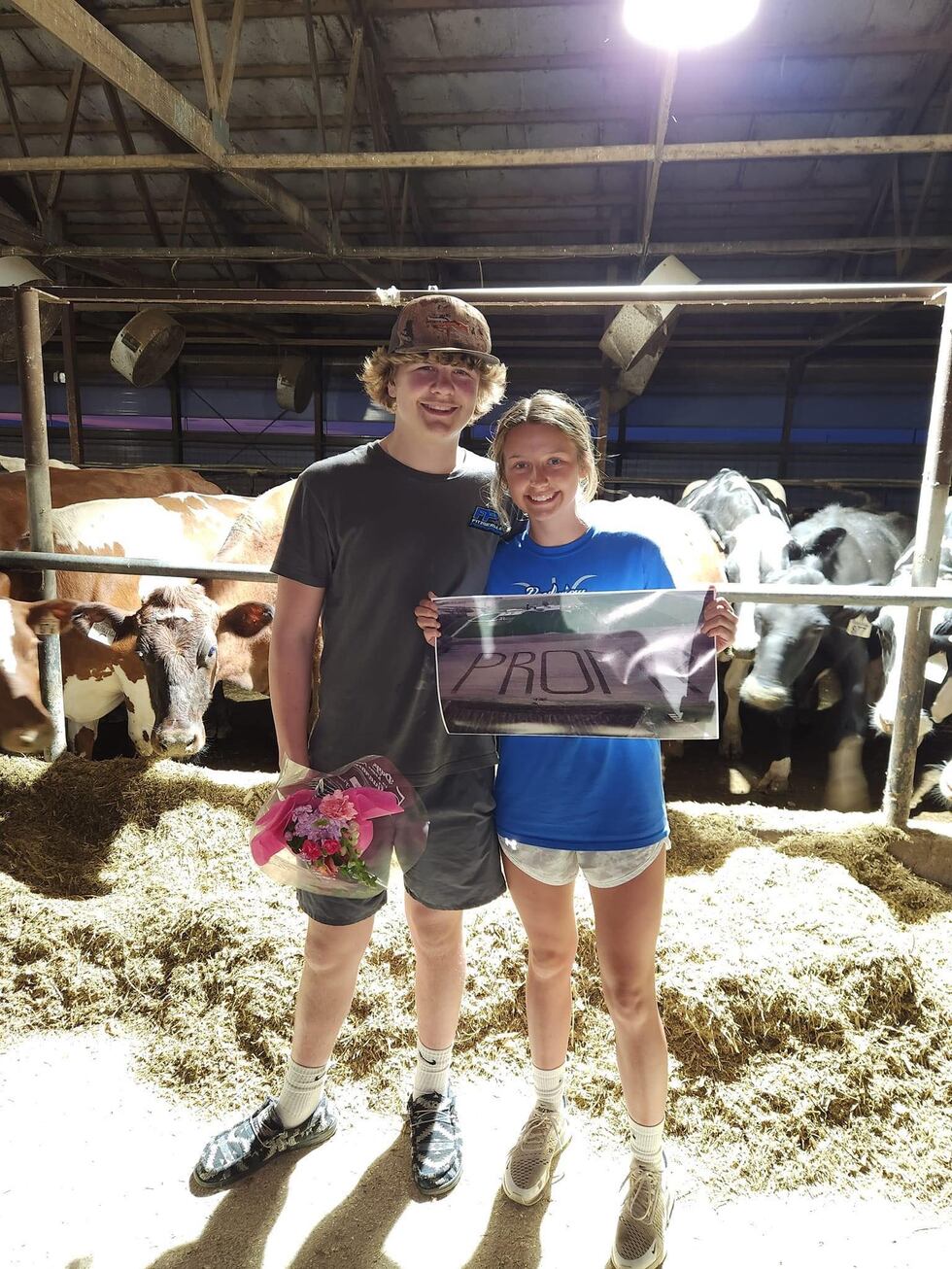 But one try is all they needed. Satisfied with his work, it was time for the big reveal.
"I have a drone that I take farm videos on so I just took her (Abby) over there and I just told her we would fly the drone around and took her over there and showed her," said Ryan.
Ryan put up the drone and showed the screen to Abby. She saw the giant letters and immediately said YES.
"I was surprised," she said. "I had no idea that he did that!"
Family, friends, and classmates say they're impressed with Ryan's creativity.
"A couple of people have told me that I have set the standard too high to ask their own girlfriends," Ryan said.
Parkview High School's prom is scheduled for Saturday, May 6.
Click here to download the NBC15 News app or our NBC15 First Alert weather app.
Copyright 2023 WMTV. All rights reserved.