Man wins $2 million in lottery nearly 2 years after $1 million win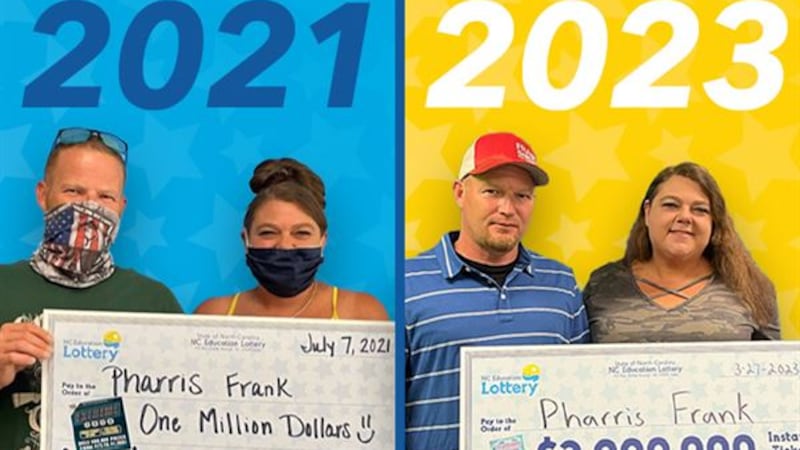 Published: Mar. 30, 2023 at 3:13 AM CDT
DAVIE COUNTY, N.C. (Gray News) - A North Carolina man won $2 million playing the lottery almost two years after he won $1 million that helped pay for his wedding.
Pharris Frank, 41, won $2 million on a $20 Diamond Dazzler scratch-off ticket, according to the North Carolina Education Lottery. He was working out of town in construction at the time.
"I called my wife and told her, 'I did it again,'" Frank told the lottery. "I didn't know if I was dreaming or not. I was just in shock for a while."
Nearly two years earlier, in July 2021, Frank won $1 million. He used the money to help pay for his dream wedding.
Frank told the lottery that the day before his second big win, he had a feeling he was about to do it again.
"It's crazy because the day before I won, my buddy was asking me how it felt to win $1 million," he said. "And I told him that I was going to double it."
Frank collected his prize Monday at lottery headquarters. He chose to take the lump sum amount of $1.2 million, netting him $855,006 after taxes.
"It's cool because the first time I won it was two miles from my house, and this time, I was four and a half hours away," he told the lottery. "What are the chances of me being down there at that exact moment in time?"
With his winnings, Frank said he wants to take his wife on a nice vacation.
Copyright 2023 Gray Media Group, Inc. All rights reserved.