Marathon County Crime Stoppers receives historic number of tips in 2022
Published: Feb. 13, 2023 at 5:49 PM CST
|
Updated: Feb. 13, 2023 at 5:54 PM CST
WAUSAU, Wis. (WSAW) - Living in a safe community is why many people choose to live in Marathon County. Some even take it a step further by helping keep it safe by joining the Marathon County Crime Stoppers.
The organization has released its data from 2022. They received 350 tips from the community which resulted in 34 arrests. That's better than 2021 which saw 333 tips and 37 arrests. So far this year, people have submitted a total of 50 tips and they've made one arrest.
The partnership began between the Marathon County Sheriff's Office and Marathon County Crime Stoppers began in 1992. As more people learn about it, the more helpful tips they get for keeping the community safe. "We're not law enforcement, we're a civilian-run board," said Marly Moss, president of the Marathon County Crime Stoppers.
Community members primarily make the decisions and work alongside law enforcement to solve crimes. "From the standpoint of our investigators here at the sheriff's office, it seems like we get a handful a month that are relevant to cases that we need to work or currently working," said Captain Jeff Stefonek, Marathon County Sheriff's Office.
One case that stands out to Captain Stefonic was a Stratford murder case. The tip that led them to identify suspect Jarod Carl in 2020 came through Crime Stoppers. Shawn Carl also pleaded guilty to harboring and aiding a felon. Just last week another suspect, Audrey Benson was sentenced in connection to the case.
"If not for that crime stoppers tip we may still be looking for the suspect," said Captain Stefonek.
However, the most common tip received is for drugs, according to Deputy Brad Tatro. Last year they seized almost 22,000 dollars in drugs. "We get a lot of tips on people who are seeing suspicious things in their area," said Tatro.
People who are involved in drugs or have knowledge of what's going on in the drug world don't want to make themselves known to police, according to Captain Stefonek, but they can contact crime stoppers anonymously.
Also benefiting from the anonymous tip option: students. they can use the campus crime stoppers program. "I remember looking back when I was in school how hard it was to speak up if you saw a friend doing something that wasn't good for their safety or somebody else's," said Moss. "I know it's making a difference and I don't want that difference to stop and I only want it to be more."
"Citizens are taking interest in their own community and making their own neighborhood a safer and better place for them and their neighbors to live," said Tatro.
"Sometimes they provide that tip that's the one that solves the case," said Captain Stefonek.
They're looking for people to join their board. If you're interested you can find information on the Marathon County Crime Stoppers website. On Saturday, they'll also be holding a fundraiser at Dales Weston Lanes. They need money to offer cash rewards, however, Deputy Tatro said many just do it to be good citizens.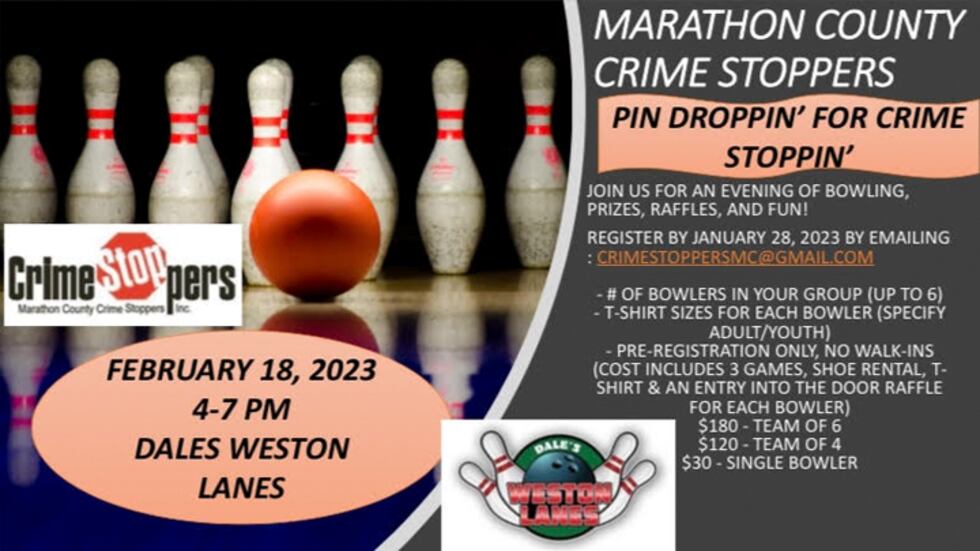 Copyright 2023 WSAW. All rights reserved.