Hepburn scores 19, Wisconsin tops Penn State 79-74 in OT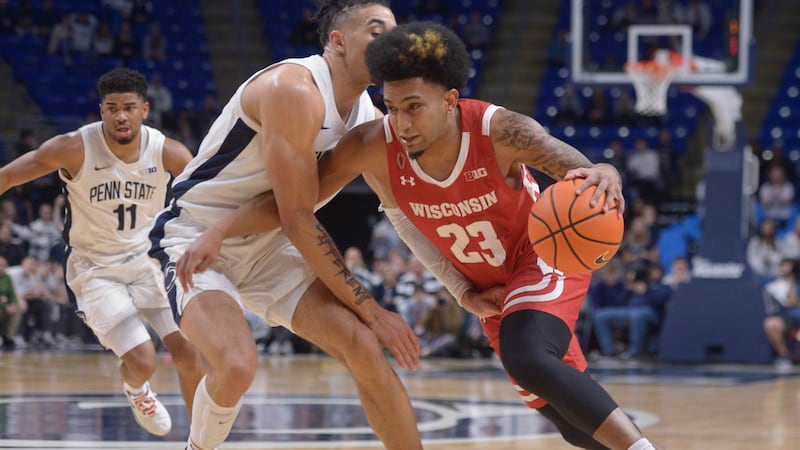 Published: Feb. 8, 2023 at 10:42 PM CST
UNIVERSITY PARK, Pa. (AP) — Chucky Hepburn scored 19 points and Connor Essegian added 18, the two combining for nine of Wisconsin's 11 3-pointers in a 79-74 overtime victory over Penn State on Wednesday night.
After a layup by Max Klesmit gave Wisconsin a 76-72 lead with 44 seconds remaining in overtime, Penn State's Camren Wynter missed a 3-pointer and the Badgers closed out the victory at the free-throw line.
Hepburn made 5 of 9 3-pointers and Essegian 4 of 7 for the Badgers, who were 11 of 24 from 3-point distance. Tyler Wahl had 16 points, eight assists and six rebounds for Wisconsin (14-9, 6-7 Big Ten) and Steven Crowl added 11 points, eight rebounds and four assists.
Jalen Pickett, who earlier this week was named one of 10 finalists for the Bob Cousy Point Guard of the Year Award, had 17 points, eight rebounds and eight assists for Penn State (14-10, 5-8). Seth Lundy added 14 points, nine rebounds and three steals, making 4 of 8 3-pointers. Camren Wynter scored 15 points and Andrew Funk 10.
With 59 seconds left in regulation and the score tied at 65, Essegian forced a turnover by Wynter. Wisconsin called timeout with 44 seconds remaining, setting up a 3-pointer by Hepburn. Lundy hit a tying 3-pointer with 23 seconds left and Wisconsin played for the last shot but did not score.
In beating Penn State for the fifth consecutive time, Wisconsin swept the season series and handed the Nittany Lions their second home loss in 13 games. Wisconsin had lost seven of nine previous games coming in.
Wisconsin plays at Nebraska on Saturday, the same day that Penn State plays at Maryland.
___
More AP college basketball: https://apnews.com/hub/college-basketball and https://apnews.com/hub/ap-top-25-college-basketball-poll and https://twitter.com/AP_Top25
Copyright 2023 WSAW. All rights reserved.