Jrue Holiday selected to 2023 NBA All-Star Game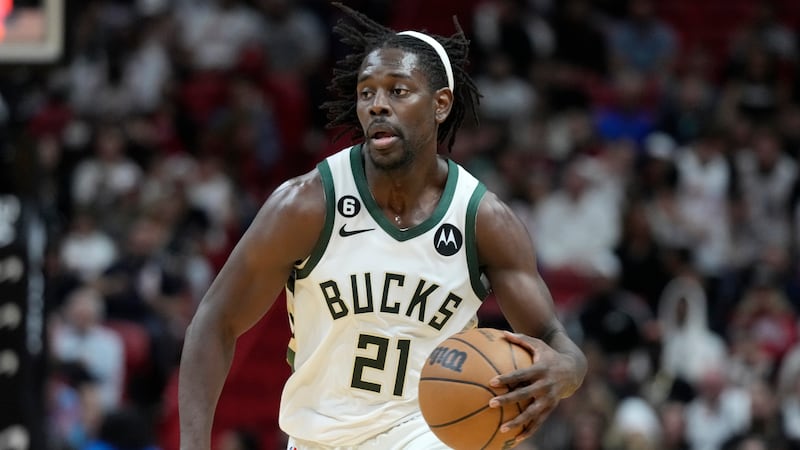 Published: Feb. 2, 2023 at 7:07 PM CST
|
Updated: Feb. 2, 2023 at 7:09 PM CST
MILWAUKEE, Wis. (WSAW) - Milwaukee Bucks guard Jrue Holiday has been selected to the 2023 NBA All-Star Game, the league announced Thursday.
This is the second career All-Star selection for Holiday, who will join teammate Giannis Antetokounmpo at the 72nd NBA All-Star Game in Salt Lake City on Feb. 19. The NBA head coaches selected the reserves for the game.
In his 14th NBA season, Holiday is averaging 19.4 points, 7.2 assists, which is tied for tenth best in the league, 5.3 rebounds, and 1.4 steals per game while helping the Bucks to the second-best record in the NBA at 34-17.
His scoring, assists, and rebounding averages are all his highest marks in his three seasons as a Buck, while his 12 double-doubles in 40 games this season are already tied for the most he's had in a season in his time in Milwaukee. Holiday has reached the 20-point mark 17 times this season, scoring 30+ points in four of those games, which included setting a new career-high in scoring in consecutive games on Jan. 16 (35 points) and Jan. 17 (37 points).
Holiday's previous All-Star appearance came during the 2012-13 season as a member of the Philadelphia 76ers. He is the 20th player in franchise history to be named an All-Star, with this being the fourth time in the last five seasons that the Bucks have had multiple players selected.
Holiday was named a reserve from the Eastern Conference along with Bam Adebayo (Miami Heat), Jaylen Brown (Boston Celtics), DeMar DeRozan (Chicago Bulls), Joel Embiid (Philadelphia 76ers), Tyrese Haliburton (Indiana Pacers) and Julius Randle (New York Knicks).
Copyright 2023 WSAW. All rights reserved.