New private cabin in Wausau offers escape from reality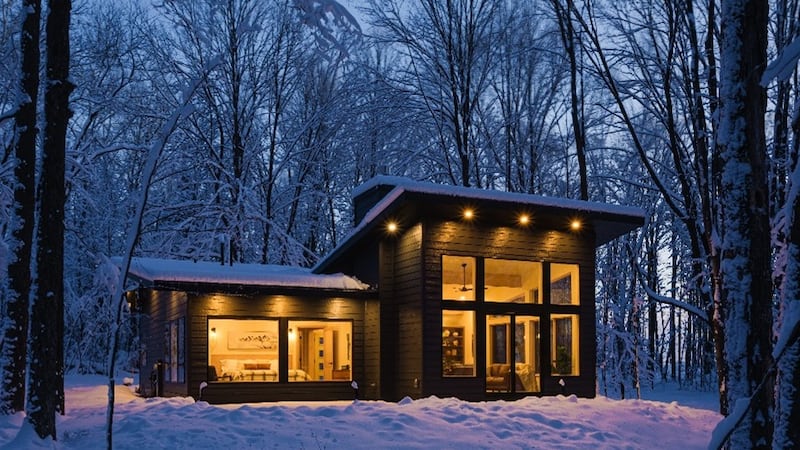 Published: Jan. 4, 2023 at 4:02 PM CST
WAUSAU, Wis. (WSAW) - Owl Ridge Cabin, a newly opened property located a few miles outside Wausau, is offering solo travelers and twosomes a chance for a secluded getaway in nature.
According to owners Randy and Sara Bangs, this is a getaway strictly for one to two people. Children, pets, and any other traveling companions will not be allowed. "Owl Ridge Cabin was designed to give guests a chance to escape, exhale, and embrace a style of travel that is both modern and timeless," said Randy Bangs. "This is not a rustic cabin or a classic B&B, but a new way to overnight that we've been dreaming about for years."
The couple, who also owns and operates the historic 1906 Stewart Inn in Wausau's downtown river district, said guests of Owl Ridge Cabin will find design elements that nod to Wisconsin's most famous architect, Frank Lloyd Wright. "We've long been enthusiasts of Wright designs, especially the iconic Seth Peterson Cottage in Wisconsin, so we took inspiration from that when it came to the design of Owl Ridge," said Randy Bangs.
The Bangs sourced materials for Owl Ridge Cabin locally whenever they could, with all the kitchen and bath cabinets and windows made nearby. The cabin also features the work of local artists. As for the landscaping, that will remain wild. They said the appeal of the property comes with it being just 10 miles from Wausau, but the seclusion gives visitors a feeling of being a million miles away.
Rates range from $260-$330 per night plus a one-time cleaning fee of $80. There is no minimum stay requirement. For more information, visit www.OwlRidgeCabin.com or call 715-323-2010.
Copyright 2023 WSAW. All rights reserved.