Wisconsin Senator Roger Roth running for lieutenant governor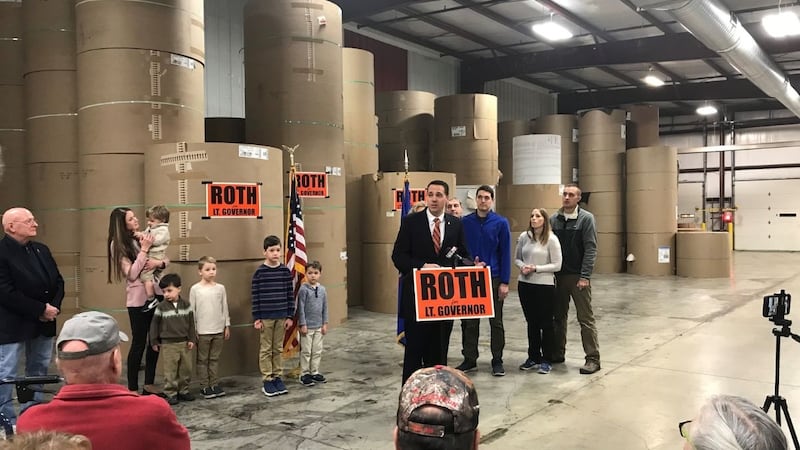 Published: Feb. 17, 2022 at 7:20 AM CST
|
Updated: Feb. 17, 2022 at 11:03 PM CST
MENASHA, Wis. (WBAY) - Wisconsin State Sen. Roger Roth (R-Appleton) is running for lieutenant governor -- and he's doing so with a sizable cash advantage over everyone else on the Republican side of the ballot.
Roth made the official announcement Thursday morning during a visit to Alpha Prime in Menasha, meeting briefly with workers there.
Roth has served in the Wisconsin Senate since 2015, representing Outagamie and Winnebago counties. He serves on multiple committees and was president of the Senate in 2017 and 2019. Previously, he was in the Wisconsin State Assembly from 2007 to 2011.
He says his experience inside and outside of politics should give him an edge with voters.
"I feel that the legislative experience -- I've been in the Legislature for a decade -- got 17 years experience in the Wisconsin National Guard, home builder private sector experience. I believe that my lieutenant governor candidacy will help empower whoever wins the Republican governor's race to help move Wisconsin forward."
Roth's announcement is definitely a game changer. The senator has more than $407,000 in his campaign account right now -- that's triple the amount of his next closest competitor, fellow Republican State Sen. Patrick Testin of Stevens Point.
Roth also announced his giving up his Senate seat. That's required by state law since his term is set to expire and both of these seats are on the November ballot.
As for who might succeed Roth in the state senate, we reached out to state Rep. Rachael Cabral-Guevara, an Appleton Republican, who told Action 2 News she's considering a run for that seat. Rep. Dave Murphy, a Greenville Republican also told Action 2 News he's considering a run as well. Both would have to give up their Assembly seats to campaign for Senate.
Several Republicans and Democrats are running for the lieutenant governor's spot, meaning there will be primaries in August. The incumbent lieutenant governor, Mandela Barnes, is running as a Democrat for U.S. Senate.
The Republican race includes Ben Voelkel, who previously was U.S. Sen. Ron Johnson's spokesman; Lancaster Mayor David Varnam; and Will Martin, who worked for two previous Republican governors. Also, gubernatorial candidate Jonathan Wichmann announced this week he's switching races to run for lieutenant governor.
"While he may have a larger war chest than we do at this point, in my previous races I've always been out spent but I've never been outworked," said Testin, when asked about Roth's financial advantage.
Testin added, "I've been able to prove that we can take a conservative message and have it resonate with the constituency that doesn't always view itself as conservative."
On Thursday Roth touted his campaign platform.
"We want to make sure that we have election security. We want to make sure we can fight the rising crime that's happening all across the state. And parents more than anything, after 20 months of a pandemic, parents are frustrated, they want control in their children's education," he said.
DEMOCRATIC CANDIDATES
David Bowen
Peng Her
Sara Rodriguez
REPUBLICAN CANDIDATES
David King
Will Martin
Roger Roth
Patrick Testin
David Varnam
Cindy Werner
Kyle Yudes
Copyright 2022 WBAY. All rights reserved.