First refugee families welcomed to Wausau
Wednesday night the refugee resettlement agency, Wausau's Mayor, and others welcomed an Afghan refugee family to Wausau.
Published: Dec. 29, 2021 at 11:29 PM CST
WAUSAU, Wis. (WSAW) - Wednesday central Wisconsin's refugee resettlement agency, Wausau's Mayor, and others welcomed the first refugee families to Wausau.
"It was very exciting," Laura Barbe, the Ethiopian Community Development Council, Inc.'s Wausau resettlement office's case manager said about waiting for the families to arrive at the Central Wisconsin Airport. "At first it was a bit nerve-wracking because it was the first family and we don't know what's going to happen."
"Someone was saying it almost felt like a wedding day. You know, it just felt like this momentous event," Margaret Pagoria, the program coordinator for New Beginnings for Refugees described.
Mayor Katie Rosenberg posted a selfie holding a sign that read, 'Welcome to Wausau.' In the post, she explained the father of the family worked directly with the U.S. government during the war. She said he is proud to call the United States his new home.
She went on to thank the Ethiopian Community Development Council, Inc. and New Beginnings for Refugees for helping prepare our community for the incoming families.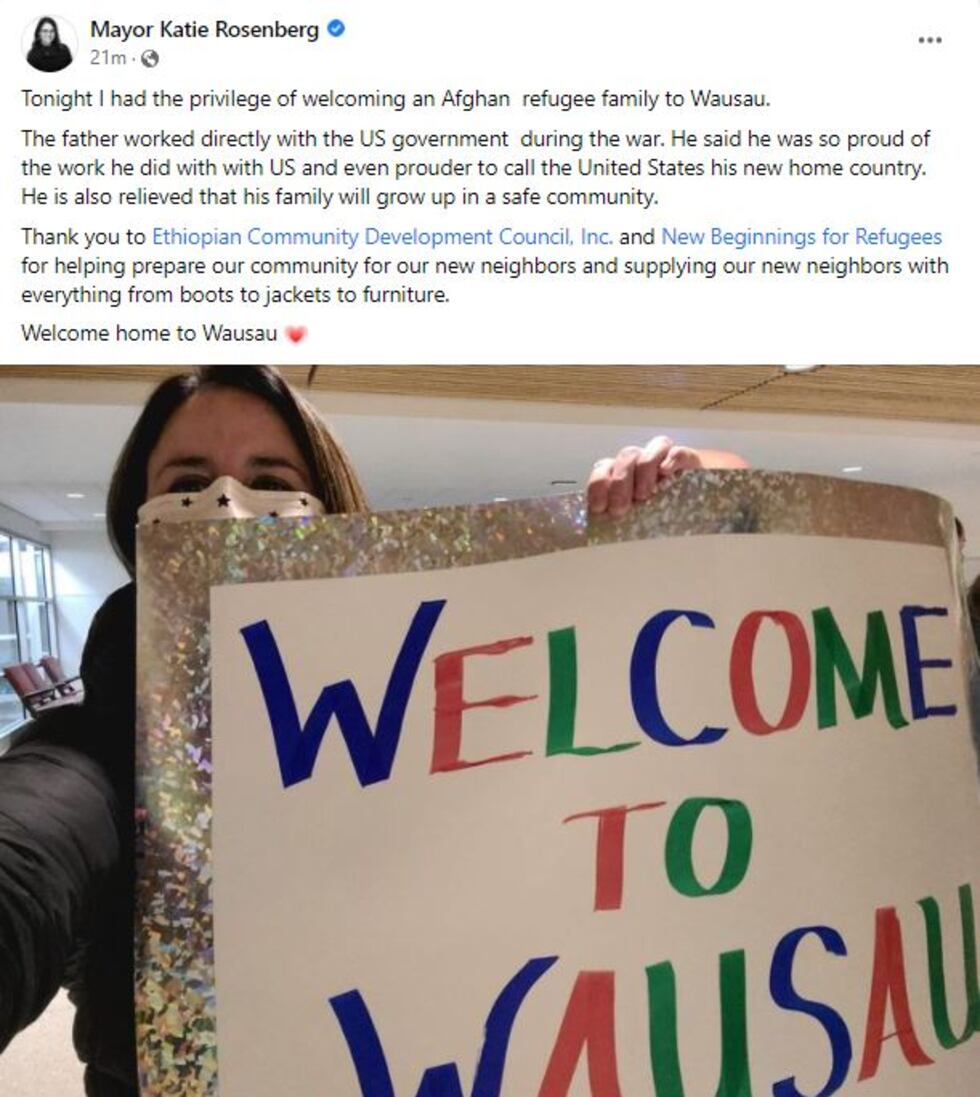 "It's been months of planning and when you finally see real people coming down the gang-way and out those doors, it really brings it full circle," the director of the ECDC Multicultural Community Center, Adam VanNoord noted.
He issued an update in a statement Thursday:
The two families we received include children. In total there are 8 children, 4 adults.
The families were well-received by two co-sponsorship groups that ECDC's Wausau branch office has been working with and training over the last several weeks. Although we had very short notice, we enjoyed the support of more than two dozen people who stepped into action to secure and set up apartments ahead of their arrival. We were grateful for the support from a local business, Furniture and Appliance Mart, for donating and delivering furnishings for both units with very short notice. In addition, New Beginnings for Refugees provided numerous household items and furnishings which had been collected over the last couple of months through in-kind donations from the community. These items are organized at the local donation sites, which serves as a starting point for co-sponsors to begin selecting the items required to set up the apartments and provide appropriate seasonal clothing items to families. Co-sponsorship groups provided initial food items, with support from the Neighbor's Place, and prepared meals for both families which were available upon arrival to their new homes.
Our case management staff will continue supporting these families for the next 90 days, along with the support of our co-sponsorship teams, to ensure a thoughtful, intentional process of integration into their new community and expediting their path to becoming self-sufficient. The children of both families are eager to attend school and continue learning the English language.
No specific employment is secured for any party at this time. Families will get settled and undergo an intake appointment within 5 days, at which point we will conduct a general skills assessment. We will support them by coordinating with local employers and identifying various employment opportunities.
More families are expected to arrive in the next 2-3 weeks, though we cannot offer any specific timeline or details as things are rapidly changing.
Rebecca Voss, a pastor of First United Methodist Church in Wausau and one of the people helping families resettle in central Wisconsin said the families arrived at the Central Wisconsin Airport Wednesday. Voss had purchased and renovated a home meant to help resettle refugees and the family of eight is beginning to settle in there. The family of four has two children. The family of eight has six children as young as three and as old as early teens and Voss said the father and eldest son can speak fluent English. The father was a translator for the U.S. in Kabul.
"The father of that household speaks great English and he even seemed to be prepared with a little bit of a speech that he gave the party that was waiting to receive him and just, again, indicated his gratitude and his eagerness to join this community and be a part of American society," VanNoord said.
Both families are from the Kabul region and were evacuated out of Afghanistan during the mass exodus this summer. One family was sent to the safe haven at Ft. Dix in New Jersey, the other was placed at Ft. Pickett in Virginia. Both have been in limbo since then, waiting for the next steps and a place to call home.
While Kabul has snow surrounded by mountains, Pagoria said they prepared to welcome the families with several different-sized winter coats to make sure they were dressed properly for the winter weather in central Wisconsin. She said one boy was wearing a jacket that was too light for this cold.
"He kept trying to give me his jacket in return. He was so overwhelmed that this was just something being given to him."
Gratitude was the word and sense the teams of people who welcomed these families got from them. They worked with a live-streamed translator to help families understand what was going to happen and that they were safe.
"Both (families) seemed tired. It's a long trip. They both traveled with children, especially the family that had a large family. They definitely seemed like they were ready to find a bed," he noted.
"Once they got to the house, you could just see it on their faces the smiles, they were just so happy," Barbe witnessed. "One of the little boys ran and jumped on the bed, he was so excited."
The homes were ready with a warm, culturally-appropriate meal, food in the fridge, and fully furnished for them. The next day, the teams helped them get the leases signed and the basic needs met, such as having enough appropriate clothing and food as well as letting them know things like that the tap water was safe to drink.
"The mother this morning was concerned about, you know, how to work the washing machine and make sure that she understood how things operated," Eric Yonke, the co-sponsorship coordinator for the Multicultural Community Center Wausau noted. He added that the kids were energetic too, with one eager to get a laptop and go to school.
Barbe said the sense of relief and contentment to have their own place was potent amongst the families.
"The mom was very talkative and very thankful and she was saying 'this was the first good night's rest I've had in a while,' and all of the kids were running around and happy and it was just really great to see that this is something that is making a difference in their lives."
VanNoord said they were only given 48 hours' notice that two families would be coming and details about the family dynamics. While he and Pagoria noted all of the months of work paid off and helped the welcome go smoothly, there were a few things they were not quite ready with or that they did not think about, like having scissors at the home to open new items.
VanNoord had spoken with a landlord about whether they would be interested in renting to refugee families only a day before they learned families were coming.
"The next day, we had to call them back and say, now, how do you feel about making a couple of units available."
They were able to have some units available and Furniture and Appliance Mart donated two households' worth of new furniture so the homes could be ready. The Neighbors' Place helped to stock the homes with food, including Halal meats. Aspirus Marathon County Safe Kids program made sure there were car seats available so the young children could be transported safely. Whitewater Music Hall dedicated a space where donation items could go.
"This is truly the best side of our county and our state and our country when we come together for people in need," Pagoria concluded.
In the next week, teams will continue to get the families set up with the basics and into English Language Learning classes through McLit if necessary. Barbe said the focus for the next month will be that English proficiency up and connecting them with the things they would need to ultimately become self-sufficient.
Thursday, VanNoord also got the details of exactly which individuals and families will be resettled in central Wisconsin for the rest of the fiscal year. He said they will strategically space out when families will arrive as their support teams continue to grow. All of those refugees will be from Afghanistan and coming in from the safe-haven bases within the U.S.
In particular, they are needing to grow their co-sponsorship teams, which are groups of people who volunteer to help connect people to resources and prepare for them to arrive in their new homes. To apply and learn more, click here. To volunteer or help in other ways, click here.
Copyright 2021 WSAW. All rights reserved.