First Alert Weather: Soaking up the sunshine this weekend
Bright and cool to start each day this weekend with pleasant afternoons.
Published: Oct. 10, 2021 at 7:20 AM CDT
|
Updated: Oct. 15, 2021 at 7:34 PM CDT
WAUSAU, Wis. (WSAW) - In case you are wondering, here are the dates for the latest first frosts in our area. This is based off of temperatures being 32° or lower.
Early clouds on Saturday, otherwise a good amount of sunshine and seasonably cool. Highs in the mid to upper 50s. Sunday will feature wall-to-wall sunshine with a warmer second part of the day. Afternoon readings rebounding into the low to mid 60s. The nice conditions will continue for the start of the new school and work week. Mostly sunny on Monday and Tuesday with highs in the upper 60s to around 70.
Clouds increasing on Wednesday as the next weather maker heads in our direction. There is a chance of showers later in the day, while better odds of wet weather at night. Highs on Wednesday in the low to mid 60s. Cooler to wrap up the week. Morning showers on Thursday, otherwise mostly cloudy with highs in the mid 50s. A mix of sun and clouds next Friday with highs only in the upper 40s.
Meantime, the latest fall color maps shows the colors are fading fast in the Northwods and will be soon across the rest of the region.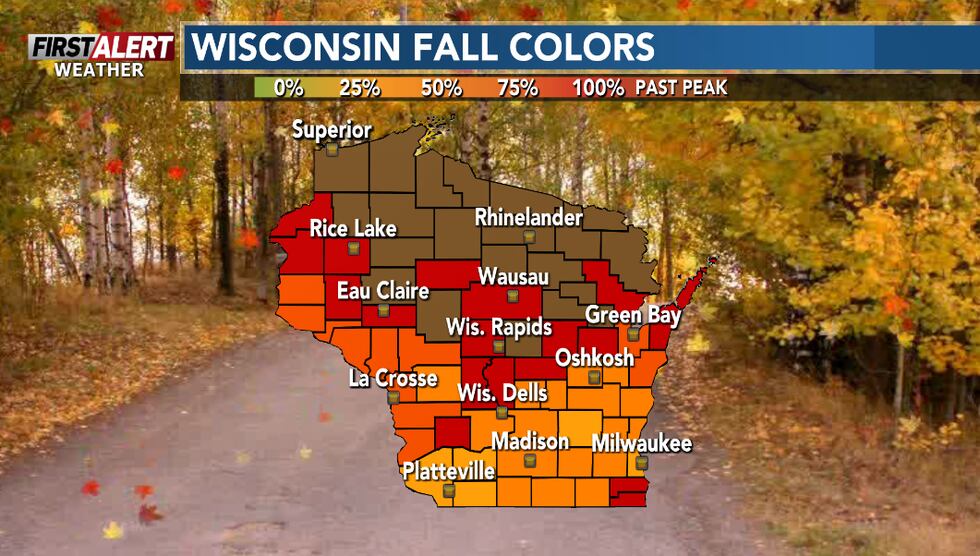 Copyright 2021 WSAW. All rights reserved.