First Alert Weather: More sunshine & comfortable temperatures ahead
Some delightful summer weather is on tap for this weekend and beyond.
Published: Aug. 10, 2021 at 8:41 PM CDT
|
Updated: Aug. 13, 2021 at 10:36 PM CDT
WAUSAU, Wis. (WSAW) - If this weekend was the one you had circled on your calendar for outdoor activities, then you hit the jackpot for nice weather in North Central Wisconsin. It is going to be a bit cool tonight with a mainly clear sky. Lows in the Northwoods in the mid to upper 40s, while Central Wisconsin should have overnight readings closer to the low 50s.
A good deal of sunshine on Saturday and high pressure settles in across the Badger State. After a bit of a cool start, sunshine will boost temperatures into the mid to upper 70s during the afternoon. Also, a great afternoon/evening to head out to Lambeau Field to catch the Packers in action. Tailing gating temps will be in the 70s, as will the readings at kickoff around 7 PM. After the sun goes down, temps will slip back into the 60s, but it will remain dry.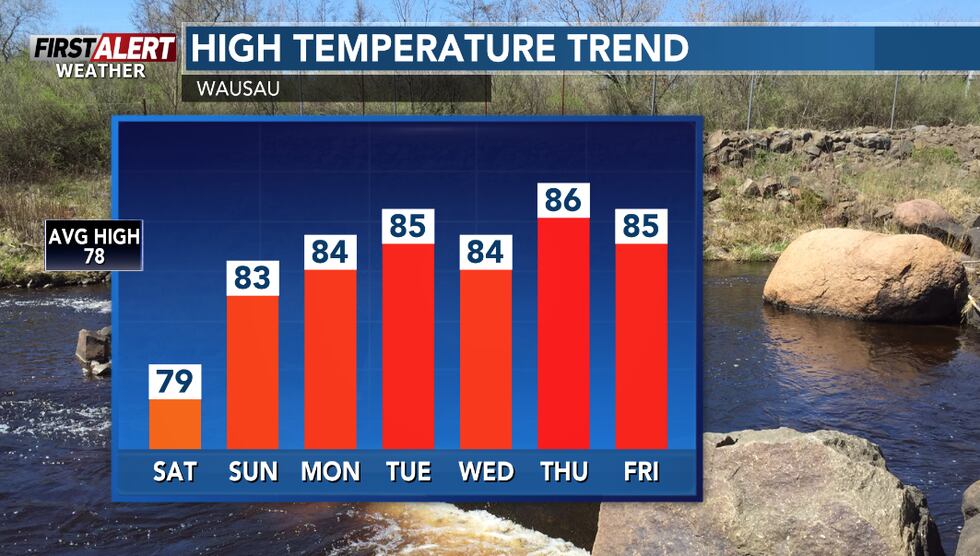 Sunday is going to be a bit warmer with a mostly sunny sky. Highs in the low to mid 80s. Sunshine will be more common than clouds for the first half of the new work week. Turning a bit more humid as the week goes along with highs Monday to Wednesday in the mid 80s. Our next chances of showers or storms could hold off until Thursday afternoon. Highs in the mid 80s. Friday does feature some sunshine with a chance of storms late day or at night as a cold front will make in-roads toward the region. Highs in the mid 80s.
At this point, the storm late next week is not shaping up to be severe, so we don't foresee issuing a First Alert Weather Day. However, as new model data comes in, we will see how things could evolve with time.
Copyright 2021 WSAW. All rights reserved.