First Alert Weather: Staying warm & humid with more chances of storms
Rather humid at times this week along with possible strong to severe storms.
Published: Aug. 8, 2021 at 8:03 PM CDT
|
Updated: Aug. 9, 2021 at 7:40 AM CDT
WAUSAU, Wis. (WSAW) - Rainfall from areas south of Highway 29 Saturday afternoon through Sunday evening ranged from 2 to 7 inches. Some severe storms occurred in Adams, Waushara, and Waupaca Counties early Sunday evening, which did produce some wind damage.
Scattered showers and thunderstorms continue today throughout the region. Though, any showers and storms this afternoon are expected to be isolated, especially south and east of Wausau. Plan for a partly sunny and steamy day with highs nearing the 80s.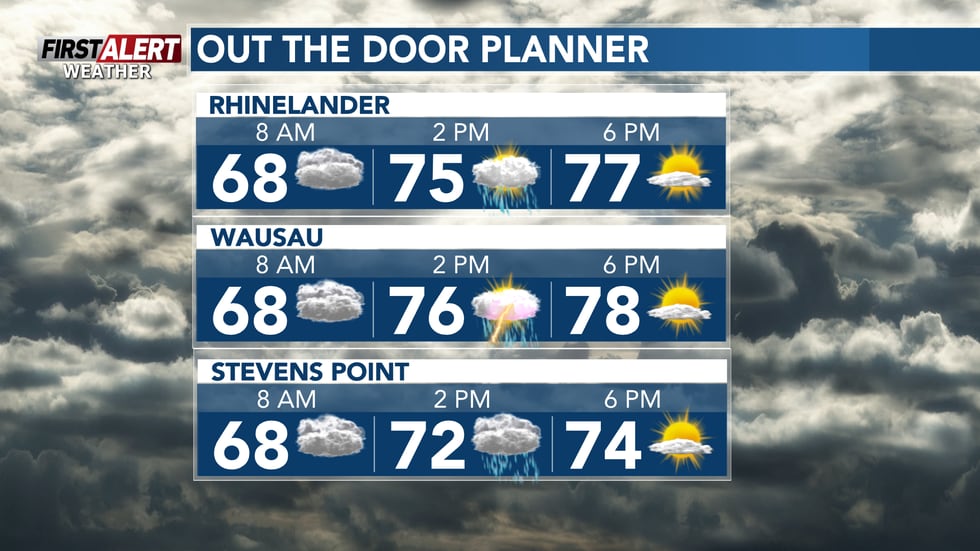 We're not done yet with showers and storms. A First Alert Weather Day seems likely Tuesday afternoon as a cold front approaches the region, bringing scattered storms that have the potential to be severe.
Clearing skies leading to some sunshine prior to storms seem likely. Additionally, the mugginess will continue Tuesday, with even higher dew points nearing the mid-70s and temperature in the mid to upper 80s. All of which, will fuel and increase the storm threat. Main threats include damaging winds, hail, and torrential downpours.
Partly cloudy, hot, and humid Wednesday with a chance of isolated afternoon storms. High in the upper 80s. Another cold front is headed our way for Thursday. In contrast to the previous cold front on Tuesday, this will usher in cooler and less humid air to the region in its wake. There is still some question as to the timing of the front crossing the area, which will play a role in whether we experience a few run-of-the-mill storms, or strong to severe storms Thursday afternoon. Either way, still a rather warm day with highs in the mid to upper 80s. Better news heading towards the weekend. How does drier, and cooler temperatures in the low to mid 70s sound?
Copyright 2021 WSAW. All rights reserved.