August is prime time for many folks to take a vacation and squeeze in those last lazy days of summer. College and NFL football is about to begin, the baseball season is heading down the home stretch and it is also the peak time for tropical storms and hurricanes. That being said, I was excited to head back home to South Jersey to kick back and relax.
Apparently, Mother Nature had some other ideas. First off was the very unexpected 5.8 magnitude earthquake that struck on Tuesday, August 23rd at 1:51pm near Mineral, VA and rattled up the coast into NJ. At the time I was out having lunch at a local restaurant and initially was wondering why the table and booth I was sitting in was rumbling back and forth. Then I looked around the room and outside the window, noticing that everything else was shaking with me. I will say this is the second quake that I have experienced, and by far was the strongest. (I won't count the re-creation of the one that is done in San Francisco at a local theater of the great quake of 1906 which was a much stronger magnitude 7.8). No less, I was fortunate that things didn't start falling all around, just a lot of rocking & rolling for a good 30 seconds. Since that time, there have been over 20 after shocks in northcentral Virginia, including a 3.4 magnitude tremor on September 1st. Needless to say, the weather forecast for those folks has included not only whether there is a chance of storms versus sunshine, but also occasional after shocks. For those of you that have experienced first hand much stronger earthquakes in California, or farther south along the Madrid Fault in the Midwest, this quake paled in comparison in strength. No less, another reason that along with the fire and tornado drills, we should probably add in where to go & what do during an earthquake to the survival check list.
Prior to leaving for my trip to the east coast, I was well aware of the fact that Hurricane Irene was churning along through the Caribbean with it's sights set on impacting the Carolinas. As tends to be the case, the storm track changed, shifting farther north into the Mid-Atlantic & New England by the second half of the week, with direct impacts from Saturday to Sunday forecasted. It is not out of the ordinary for tropical storms or hurricanes to make their way toward NJ. I fondly remember the flooding rains from Floyd in 1999, the numerous downed tree branches, leaves and power lines after Hurricane Gloria in 1985, along with a handful of powerful Nor'easters that ripped up the coast during the 1990s. However, it had been over a hundred years, since September 16, 1903 that a hurricane had made landfall in the Garden State. That storm was a category 1 storm, with winds near 80 mph. Hurricane Irene, although taking a slightly different track into the NJ coast, was also a category 1, however it's big threat wasn't necessarily the winds, but rather the heavy rainfall.
Prior to Hurricane Irene, August 2011 had already gone down as the wettest month on record in the Greater Philadelphia area. Add in the 5.00-13.00" of rain that fell with this hurricane and Philadelphia finished August with 19.31" (+15.80"), while Trenton, NJ added up to 14.85" (+10.75"). Of course the end result was localized to widespread flooding along numerous rivers and streams in the region, along with plenty of power outages. With any landfalling hurricane also comes the threat for tornadoes. Unlike the type of twisters that we see here in the Midwest, the tornadoes in this case are rain wrapped and short lived. No less, they can still pack a punch, considering all of the rotation going on in the atmosphere with a large hurricane. At least one tornado, an EF1 touched down in Lewes, DE during the height of the storm, taking out trees and damaging homes. Where I was at, there was a tornado warning in effect during the late evening hours. Fortunately, the storm cell didn't actually produce a twister, but certainly had my family ready to take cover in the downstairs bathroom.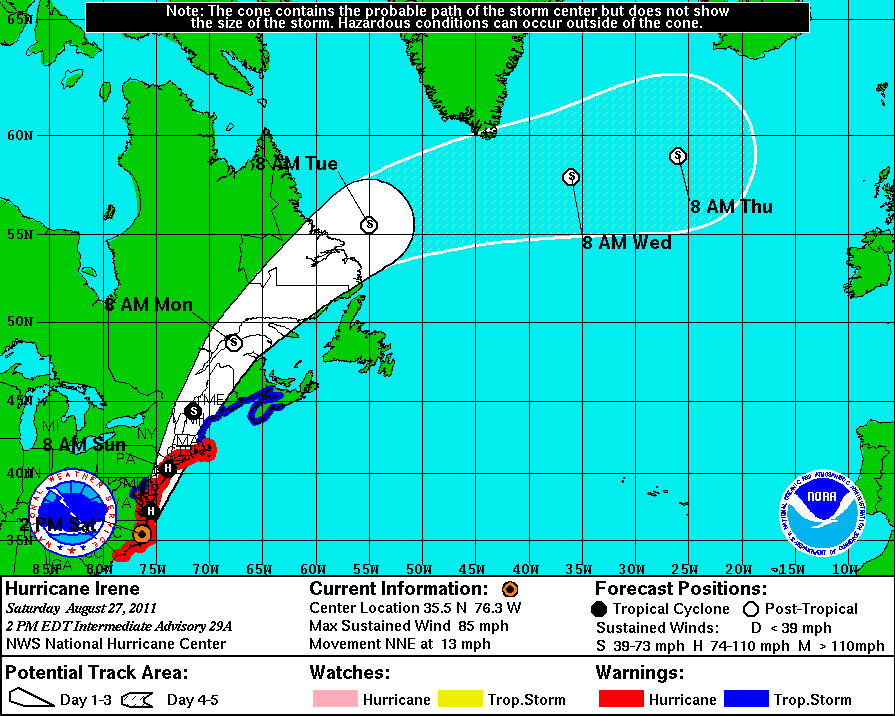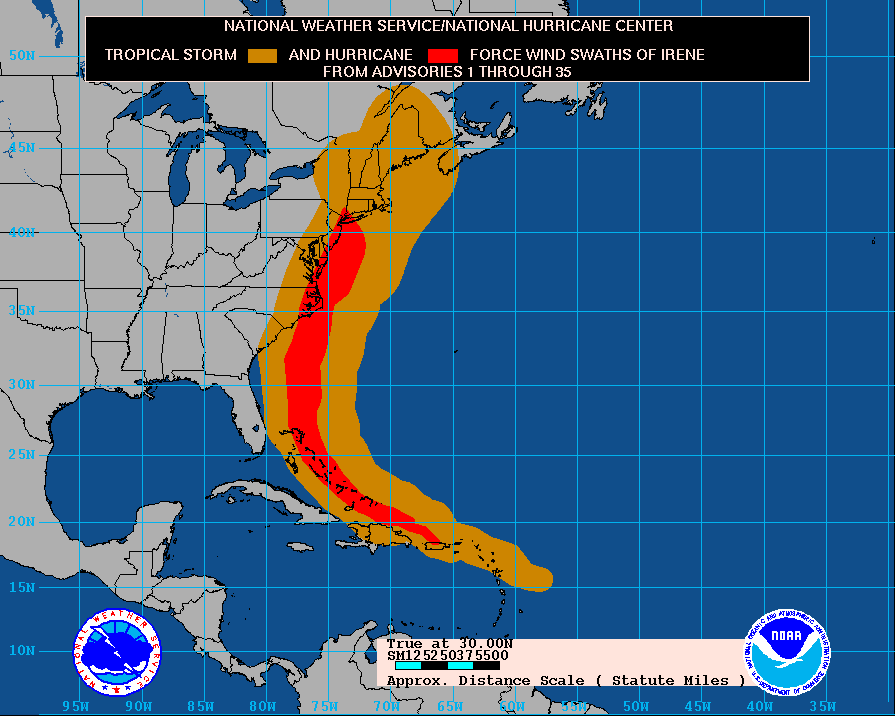 Map of Rainfall Across New Jersey
Green icons = locations that received less than 5" of rain
Yellow icons = locations that received between 5 to 6" of rain
Orange icons = locations that received between 6 to 8" of rain
Red Icons = locations that received more than 8" of rain
A rather eventful vacation to say the least. Of course as soon as I get back to North Central Wisconsin, hot summer weather decided to make a comeback kicking off September with readings in the low 90s in spots. And as is par for the course, by the second half of the Labor Day weekend, highs will struggle to get out of the 60s. So I have been riding the weather roller coaster all along the way and we all know the temps will be going downhill in the months ahead. Enjoy the ride!